Thursday, June 16, 2005
Ok, Ok, I know! But I have had a bit of a "morning-after" so you all just had to wait.......
OMFG! The show was just AMAZING! But I think I'm jumping the gun here, so to start:
Devon, Andy and I left around 3, hoping to meet up with some people at the venue. About half way there, I got a call from Scar, who wanted to find a place to eat before the show. LOOONNNGGG story short, we all met up at the Roadhouse Grill. It was great to meet some of the people from the OF. Now I have faces to go with the "names", and if I want to go to the show in Hollywood, FL, later in July, Scar has 2 extra tickets!! So I have to call Dr.'s and find out if I can make that one as well!
By the time dinner was over, Mother nature was doing her usual thing. Rain and Lightning was everywhere! So there went our "Tailgate Party" ***SIGH*** I swear, some times I wonder what I did to piss off the Gods! Anywho, got to the venue, and spotted the WHTQ van parked right out front. So of course, I had to go bug my favorite DJ! Chris was really nice, and truth be told, a lot nicer looking than his pic on the site ( and if you reading this Chris- HAHAHA!! Get a new pic up there Dude!)
Went inside, bought my "booty" ( a ROA shirt, Baseball Jersey, and program!) And found our seats. Then I notice that someone I remember is sitting not 4 seats down- KAT! Wow, take me back. She was one of the girls I met back in West Palm for the X tour! Great to see her and her son David, and then she helped me find Robin ( aka- Deflepgrannie) As you can see, time just melts away...................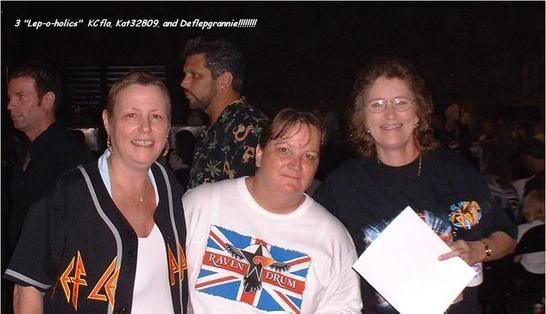 So the show starts! Tesla were very good, though I'm not familiar with all of their songs- they really know how to work the crowd. And the singer is constantly saying how wonderful it is to be back opening for Def Leppard. How it's a "re-union" tour of sorts, and they couldn't be more pleased to be playing with them again! Wonderful stuff! They left the stage, and it was off to get a beer, and mingle alittle more. All of a sudden- lights out, and HERE WE GO!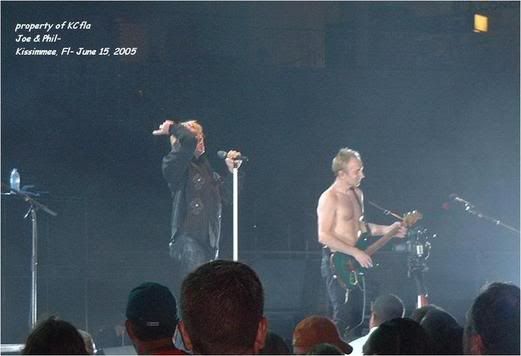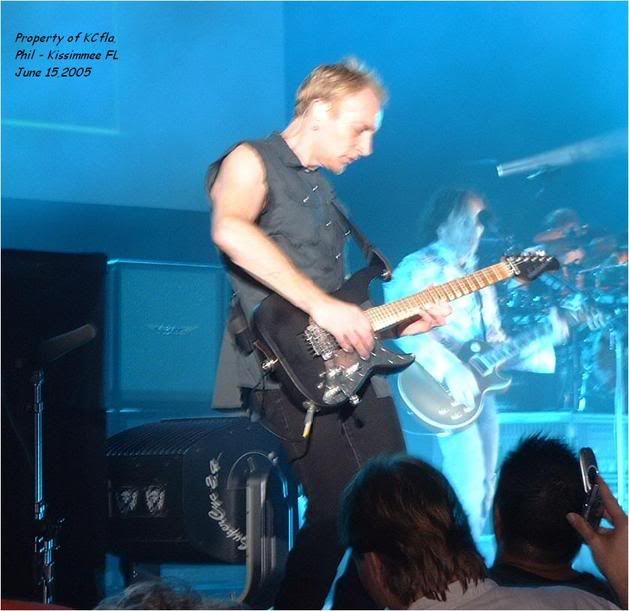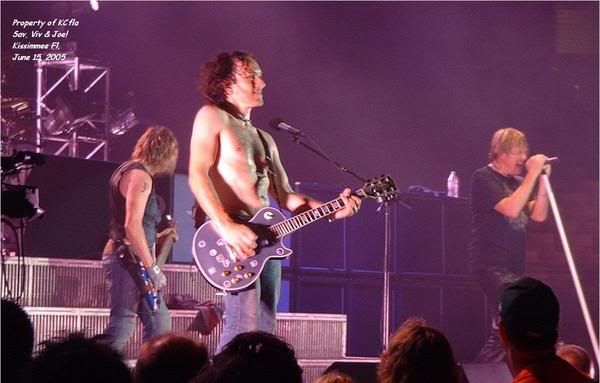 HOLY HECK! They just blew us all away! I was a little bummed that Joe didn't come over to our side as much as I'd liked ( Like the whole damn show!!) but they really did a wonderful job of covering all parts of the stage. And although I'd heard ( on the OF) that there was "Boo'ing" going on during GOW, none of that happened last nite! It was just one big "rock party"!
The only thing I am now down about, is that when I went this morning to get the pictures off my brother's camera, about 1/2 of the ones I took never showed up??!! And a lot of them are too blurry to print! Especially ( DAMN IT ALL!) the one I tried to take when Joe was posing on our side of the stage. I guess the nearness of him got to my shaky hands. Oh well, the memory is in my head, so no one can get that!
After the show, Kat, Robin and I made for the Buses! Stood around for about an hour. Saw Sav go out, and Malvin walk back and forth. We were just about to holler for them to come over, when Security made us leave! They said the guys weren't coming out to sign anything, and we needed to get off the property NOW! A**HOLES! I heard one of them talking about being tired and wanting to go home. So I think this was their way of getting us to leave, so the band would leave, and THEY could leave. PFFFFTTT! Personally- I think that guy needs to get a new job!
All in all, a wonderful time was had by all! And Devon said we REALLY have to do this again sometime, and why the heck didn't I drag her to the last tour?????!! I think I have a new "concert-buddy"! She was rocking out with me just a hard. Pretty impressive for a girl that's been into Hip-hop and Rap for the last few years! Me thinks I've made a "convert" out of her!
Then again, maybe she's figured out what we've known all along:

Def Leppard ROOOOCCCKKKKSSSS!!!!!!!!!!

P.S. Just got an e-mail from Chris ( afore mentioned DJ- HI CHRIS!!) He seemed to agree with me:

Hey Kc,

What great photos! I love your website too. That concert was just so good. The sound, the crowd, what energy.

Good to meet you and hopefully I'll start seeing you at more of our events.

Chris
Answer back at you- YOU BETCHA!!!!! ;-)
Invisioned on |11:32 AM|
* * *