Monday, October 31, 2005
Happy Halloween!

Don't eat too much candy all!

Well, I well and truly exhausted. That will teach Jon to take some time off with me lol! We cleared out the garage to the point you could have a dance in there! And did a TON of work to the backyard. I still have to get rid of a few trees that we have back there. We had planted a couple of Bradford Pear trees ( not fruit trees- these are the flowering variety)- I've noticed that they haven't really been growing, and told Jon that we should probably pull them up and plant a couple of Oaks. He said I was crazy, but I proved him wrong. I went to one of them yesterday, and just leaned my hand against it- and it went CRACK! I pushed on it, and it toppled right over!Broke off right at the ground! I'd say they're dead, Huh? So that's another chore to look forward to. I'm kind-of surprised that the thing didn't topple during the storms we've had, but whatever.

And I've started planting my veggies. Tomatos, Green Peppers, Broccoli, Cabbage & Onions so far. But I'll be going to my favorite garden center this week, so I'll be adding to that I'm sure. It's just really good to see something other than weeds out there. I'm not embarrassed by my own yard- it's a good thing! And NO- I didn't overdo. I learned that lesson last year. I took a lot of breaks, which was actually preductive as well. I FINALLY loaded a ton of my CD's on to my I-Pod. Pretty stupid that I only had about 200 songs on the thing, when I have like 300 CD's in the house! It's scary how much music the thing holds. I have 700 songs on there now, and only have 4 gigs of memory ( out of 20 ) used! I guess I'm going to have to buy some more music! Best Buy- here I come! ;-)

I'm sorry I haven't been around/commenting on your blogs my friends, but as I said last week, getting time on this thing with the Hubby around is like pulling teeth. I'm going to rectify that this morning. I'm also WAY overdue to send out some stuff to people ( like Michael!) So I have to get that done as well. I'm trying to get as much done as possible before I go back to work next week. I will probably be tired the first week or two, until I get back in the swing of things. I'm glad to be going back though, I've been away too long! Normal is sounding pretty good to me right now!

Have a great Monday! And Happy Halloween, All Hallow's Eve, Samhain, etc!
Peace and Love, KC
Invisioned on |7:56 AM|
* * *
Friday, October 28, 2005
What do you do during a Hurricane?
Why, Wrestle of course!


Sisterly love- ain't it grand?

Ok, Ok, I'm back. We got the flowerbeds all cleaned out yesterday ( and YES- Jon helped a lot!). So now I have to decided what to put in them. One will be my veggies of course, but the other two will be either flowers or bushes. I just can't decide what to plant *sigh*.

I had a bit of a surprise yesterday as well. As you all know, I've been hit with various medical bills lately. Not that I didn't expect some but not as much as I've gotten! Well, I went to the mailbox yesterday- and there was an envelope in there from the hospital where I had both of my surgeries. I had mentioned on here that I'd had to pay them a load of money upfront ( remember me asking about that Kim?). Well, all I could think of is "oh no- not MORE money!" But lo and behold- a REFUND CHECK! *insert dancing smiley here* I'd thought I'd paid them more than I should have. At least now ( and it took what- 9 & 1/2 MONTHS???) I've got some back . Of course, I'll just put it towards one of the other bills, but at least it's something!

And I see by my e-mail that they've postponed the pre-sale for the Bon Jovi tickets AGAIN! I was all set to get them tomorrow, but since power is still out down south of here ( the concert is in Ft. Lauderdale) they've held off until things get back to normal. BLEH! Becky's gonna be pissed- she really wants to go to this with me. Well, life is never smooth and easy, huh?

Well, Jon's already out in the garage, starting the "Purge". So I'd better get my happy butt out there and help. I'll leave you all with the usual Friday Fare, and since Monday is Halloween, these are both in keeping with the season. One from my friend Alex, and another from my co-worker Nina:
.........................................................
A little boy and girl go trick or treating. They knock
on the door of this house and the man who answers it says,
Well, you two are awful cute. Who are you supposed to be?"
"We're Jack and Jill" she replied.
The man says, "You can't be Jack and Jill, you're black!"

So, they go off and a while later they come back dressed differently.
They ring the door bell and once again and the man opens the door.
"Well now, that is just darn cute. Who are you this time?"
"We're Hansel and Gretel" says the little boy.
"Well, I hate to disappoint you son, but you can't be
Hansel and Gretel because you're black!"

Heads hung low, they leave. Not too much later the man hears the bell ring
again. This time when he opens the door there stand the two children but
this time they are BUCK NAKED.
"Oh my! And just who are you supposed to be now?!" he asks.

"Chocolate M & M's," said the little girl. "I'm plain. He's got nuts."
...................................................


TOP 10 REASONS TRICK-OR-TREATING IS BETTER THAN SEX

10. You're guaranteed to get at least a
little something in the sack.

9. If you get tired, wait 10 minutes
and go at it again.

8. The uglier you look, the easier
it is to get some.

7. You don't have to compliment the
person who gave you candy.

6. The person giving you candy doesn't
fantasize you're someone else.

5. If you get a stomach ache,
it won't last 9 months.

4. If you wear your Batman mask,
no one thinks you're kinky.

3. It doesn't matter if the kids hear
you moaning and groaning.

2. You'll feel less guilt the next morning.

1. If you don't get what you want,
you can always go next door!!
....................................

Take care, and have a great Friday!!!!!!
Peace and Love, KC
Invisioned on |8:29 AM|
* * *
Wednesday, October 26, 2005
Big & Rich had it right!
Now, I ask you- what comes to mind when you see this picture?




Another Dark Hunter for you, his name is Sundown. Yea, I know I said I would not post anymore pics like this, but Rhonda seemed a little disappointed soo........ :-)
( all together now: " Save a horse, ride a Cowboy" lol!)

It's cold! I mean, not for all of you, but we went from 87 one day, to 50 the next! That's one of the problems with the winters down here. Your system doesn't get the chance to adjust to the temps. One day hot, the next cold. I guarantee that the store will be full of sick people within 2 days. Bleh! At least I'm not there to get sneezed at! And all I have for a coat is a hoodie-sweatshirt. Looks like I'll have to break down and find a better coat. I saw a nice one online, but it cost too dear. Champagne taste on a beer budget- That's me!

Jon's taking the next few days off, and I'm gonna get to work on those neglected flower/veggie beds of mine. I was going to do it on my own, but I really shouldn't do THAT much yet. And since the weathers cooler, he shouldn't give me too much trouble helping out. He just hates to work outside around the house. Which I can kind-of understand. I mean, he works out in that heat ALL DAY for his job- why the heck would he want to do it during his time off? But I can't handle all the digging/hauling on my own, so he's going to have to help me out here. Plus, he will want to have a say in what I plant. So he'd better "put up- or shut up!" Plus, we have some Bouganvilla bushes on the south side of our house that need trimming. Those things are beautiful, but they have huge thorns about 2 inches long on them. And I'm still under orders not to get myself cut up ( infections are still a no-no!) So I need him to do it. Besides, he's the one with the leather work gloves and Machete in his work truck!

Anyway, what I was getting at ( while allowing my mind/fingers to wander) is that if you don't see me around as much this weekend, you'll know why. I'll have to fight Jon for time on this thing, even in the morning ( when I normally have it all to myself!) Bear with me- I'll get here eventually!
Have a great "Hump Day" all,
Peace and Love, KC
Invisioned on |7:51 AM|
* * *
Monday, October 24, 2005
We're ok! ( updated)
Although I'll be glad to see this hurricane season go "buh-bye"!
My backyard- around 8 am:


A little water, but not much.

My backyard, around Noon:


OUCH! ( yes, those are my crappy, overgrown veggie beds in the forground. Since the temps are down in the 60's, that's the first thing I'm hitting this week!)

Out the front door, around noon as well:


Note the water flying off the corner of our roof, and the horizontal rain!

We didn't lose power for more than a few minutes, although we could hear transformers popping all over the place. And the roads into our neighborhood were flooded, which meant that if we needed to "make a run for it"- we'd have needed a boat! But it's all run off now, and things should get back to normal. Tig and Kim got the worst of it, although Brevard County was the only place ( reported so far) that had some tornados. I'm just glad Wilma was moving at a fast speed, or I could be up to my a** in water as we speak. Now I know why we spent so much money on fill dirt when we built our house. Darn glad we did!
I'll catch you all tomorrow. Thanks for all you prayers and good vibes! As usual, they worked :-)
Peace and Love, KC

** Tuesday AM Update**
Well, I got the pictures fixed. Apparently, Photobucket was as fouled up as Haloscan yesterday. Could it be that their mainframes are located in Miami? Possible. Anywho, the water is all gone now, and the main roads from our house are clear. Aside from the temperatures ( which are a toasty 60 degrees- which is down from 87 just two days ago!) we're back to normal in my neighborhood.

I've changed the video, and also the "scrolling lyrics". If any of you can't guess them, well, as Michael would put it- I'll have to come and "slap you with a Carp!"
Have a great day everyone! Peace KC
Invisioned on |5:36 PM|
Update- FYI
It's about 9 am, and we've already had 3 tornados touch down in the area. My backyard is a lake, but as you can tell, we still have power. We're ok here, aside from a small leak in the roof, which thankfully is in the garage. I'm sure we can fix it, once the storm passes.
I hope that Kimmy( Deflepkim) and Tig are Ok, since they've been getting the hurricane winds already. I won't see them for another hour or so.

I just thought you'd all like to know. I'll update this as I can. Or if we lose power ( I've heard some transformers go, so it's likely!) I'll text Steph and Kim ( 9'er Kim, that is) to keep you all from worrying. But the winds are picking up, and I'd better get off this thing!

At least when this is over, I hear our "summer" will be over. Tomorrow they say the high will only be in the 60's! WOO HOO!!
Love and Peace, KC
* currently wearing her water-wings* ;-)

* update 11am*
Oh my lord! The rain is coming down sideways, and my ENTIRE backyard is flooded. Thankfully, it's draining down the side of the yard out to the street, so I don't think it will get in/on the back porch. I've tken some pictures, but until the storm is over, I'm very hesitant to stay on this thing for long. Our cable connection keeps going in and out, though we haven't lost anything for very long.

One sad little thing- there is a nest in one of our trees out back, and there is a little birdie stuck in there. She/he has been chirping like mad, but we don't dare try to wade out to fetch it. Aside from the fact that mom won't take it back, the water is too deep, and there could be slitherey "critters" in there. I'm not risking having a close encounter with a "Cotton Mouth", just to save the bird. He's made it this far, and I'm sure mom isn't too far away.

Hope to talk at you all soon! Peace, KC
Invisioned on |7:54 AM|
* * *
Sunday, October 23, 2005
A Special Day
For our friend across the "pond"!


Happy Birthday Kate! Hope your having a great day Sweetie!

Well, we're here just hanging out. They cancelled school tomorrow ( no big surprise there) and we are as prepared as we're gonna be. I don't think we'll get much, just rain and some pretty good wind gusts. Thankfully, it's coming across the state, so by the time we get it, it will be a Cat 1 at best. They're not even evacuating the coast where we are, so obviously they're thinking it's not going to be too bad.

I might lose power, so don't be surprised if I'm not back for a few days. I'll get word out somehow. I have number's for a few of you ( Kim and Steph) so I'll text you two if I do get "cut off". Until then, have a good weekend, and I'll be back! Peace, KC

**Update**
Well, It's 7:30-ish, and we've already had 3 tornado warnings! Now, you tell me- Am I sleeping tonight? Probably not! But that's what happens during one of these things.
Keep your finger's crossed! Not just for me, but for Tig and DeflepKim as well. They're a lot closer to the "center" than I am!
Peace & Love, KC
Invisioned on |10:42 AM|
* * *
Friday, October 21, 2005
Hubby is convinced...
That "Wilma" will miss us entirely. Here's his theory: Since it's taking so long to clear the Yucatan, the cold front( which is due here over the weekend, and is what is supposed to "push" Wilma to the east) will cause the storm to move even further south than what they are saying. He said " A hurricane CAN'T bust through a cold front!" Instead of "meeting" the storm in the gulf, and thereby pushing it towards us, the front will ( in affect) "hold" Wilma to the south, and keep it in the northern Caribbean. I hope he's right, but I would think that NOAA would have said something about this by now. After all, THEY ARE the experts. But he's convinced, and has been shaking his head at me while I prep for the possible storm. He thinks I'm making a fuss over nothing, and all we'll get is some rain. Well, after last year, I'm not taking any chances! And apparently I'm not alone. The girls and I went to Publix yesterday, and the shelves are already being picked clean of water, batteries, ice, etc. Besides- everything we bought is non-perishable so there's no waste involved. And the bottles I filled can just be "dumped" out if they're not needed- so no worries there. Plus, all those frozen water bottles in the freezer will actually cause it not to work so hard to keep cold- so it's all good!

We are going to clear some stuff out of the garage today. Since I would like to be able to put my car in there again. I really hate leaving it out on the driveway, but with all the junk, I haven't been able to. The kids have a game table in there, and a bunch of their larger "toys". So I have to clear out some old stuff, that is mostly my Dad's. I haven't been "able" to do this, since it gives me a case of the "guilties". But it's been over 20 years since he's passed, and it's just time to let go. Mom will probably have a fit, but she's not taking it off my hands ( and hasn't even asked about it!) so I have to deal with it myself. It will probably hurt a little though.

I have updated my sidebar. I've added the link to my Live Journal. I'll be using it to review CD's, DVD's and books that I've seen/heard/read. That way I won't bore you all with them- unless, of course, you want, then just click the link. I've only got one up so far, but I'll let you know as I add to it.

Well, on to more uplifting stuff! It is that time of the week, where our thoughts go to fun and frolick. So without further ado, I give you your Friday Funnies! From Janine, once again ( I'll call you this Sunday sweetie!)


1. Two antennas met on a roof, fell in love and got married. The ceremony wasn't much, but the reception was excellent.

2. A jumper cable walks into a bar. The bartender says, "I'll serve you,but don't start anything."

3. Two peanuts walk into a bar, and one was a salted.

4. A dyslexic man walks into a bra.

5. A man walks into a bar with a slab of asphalt under his arm and says: "A beer please, and one for the road."

6. Two cannibals are eating a clown. One says to the other: "Does this taste funny to you?"

7. "Doc, I can't stop singing 'The Green, Green Grass of Home." "That sounds like Tom Jones Syndrome." "Is it common?" Well, "It's Not Unusual."

8. Two cows are standing next to each other in a field.. Daisy says toDolly, "I was artificially inseminated this morning." "I don't believe you,"says Dolly. "It's true, no bull!" exclaims Daisy.

9. An invisible man marries an invisible woman. The kids were nothing to look at either.

10. Deja Moo: The feeling that you've heard this bull before.

11. I went to buy some camouflage trousers the other day but I couldn't find any.

12. A man woke up in a hospital after a serious accident. He shouted,"Doctor, doctor, I can't feel my legs!" The doctor replied, "I know you can't - I've cut off your arms!"

13. I went to a seafood disco last week...and pulled a mussel.

14. What do you call a fish with no eyes? A fsh.

15. Two fish swim into a concrete wall. The one turns to the other and says "Dam!"

16. Two Eskimos sitting in a kayak were chilly, so they lit a fire in the craft. Unsurprisingly it sank, proving once again that you can't have your kayak and heat it too.

17. A group of chess enthusiasts checked into a hotel and were standing in the lobby discussing their recent tournament victories. After about an hour, the manager came out of the office and asked them to disperse. "But why," they asked, as they moved off. "Because", he said, "I can't stand chess-nuts boasting in an open foyer."

18. A woman has twins and gives them up for adoption. One of them goes to a family in Egypt and is named "Ahmal." The other goes to a family in Spain; they name him "Juan." Years later, Juan sends a picture of himself to his birth mother. Upon receiving the picture, she tells her husband that she wishes she also had a picture of Ahmal. Her husband responds,"They're twins! If you've seen Juan, you've seen Ahmal."

19. Mahatma Gandhi, as you know, walked barefoot most of the time, which produced an impressive set of calluses on his feet. He also ate very little, which made him rather frail and with his odd diet, he suffered from bad breath. This made him ..
(Oh, man, this is so bad, it's good)...........

A super calloused fragile mystic hexed by halitosis.

20. And finally, there was the person who sent twenty different puns to his friends, with the hope that at least ten of the puns would make them laugh.
No pun in ten did.

Have a good day all! Peace and Love, KC

P.S.- I'll have some more "Dark-Hunter" pictures tomorrow. The site's been down all day, and I don't have them all stored on my computer. But I will by tomorrow ;-)
Invisioned on |7:51 AM|
* * *
Thursday, October 20, 2005
I don't understand..

Why hubby doesn't like my desktop? I told him it was just a charactor out of a book, but he just shook his head and walked away * snickers evilly* !!

Ok, what's up here? Well, I'm going to the store in a bit. I know it's early yet, but we need to get some supplies in, should "Wilma" come to call. I'm not about to wait for the last minute, and have to take the "left-overs". I've got plenty of canned goods. but I'm a little short on batteries, and ice. I know what will happen though. I'll spend all the money on this stuff, and then won't need it ( PLEASE!) Still, it pays to be prepared! And Becky is making a list of all the stuff we have to do before the weekend ( like charge the cell-phones, I-Pods, etc) so we son't forget that as well. Can't go without my music- no matter what!

My cousin is/was gonna stay here until Sunday, but given the hurricane- she'll probably leave a little earlier. Much better for her to be safe in Pennsylvania, than to be down here with us! Then again, if this darn storm comes in at full force, we may go with her! Hey, Michael, got a spare room for a friend? ( J/K!)

Oh and I did something totally silly this morning. I started a Livejournal. I'm just going to use it to review books/CD's I've been reading/listening to. I'll see how it goes, and give you all the link, if I keep it up. Not to mention I have to figure out how to work it yet! Another thing to keep me busy- as if life isn't crowded enough!

Well, that's all for now. I'll see you all later! Oh and to my readers of the male persuasion. I'll stop posting "those" pics for now. I know they can't be much for you to look at ;-)
Peace and Love, KC
Invisioned on |8:47 AM|
* * *
Wednesday, October 19, 2005
Just a little something
To put a smile on your faces ( my apologies to the male readers of my blog!)



yummy,yummy! That's from the Dark Hunter books site. There's all kinds of good looking men's pictures over there. Be sure to bring a bib, if you go!

I went out with Mom & Rae yesterday. Went to lunch, and did a little shopping ( mom sat in the car, since she's not supposed to walk on her foot yet!) Had a lot of fun, and got some Christmas gifts in the little "old downtown" section of Melbourne. I love the shops down there. I was feeling a bit guilty, as I had planned on saving my money for this weekend. They are having an Arts & Crafts Festival down there, and I usually like to shop at those. But since this coming weekend is looking like a total washout, I'm glad I didn't hold back. Which brings me to....

** uses best Fred Flintstone voice** WILMA! Sheesh, is the season over soon, cause I think everyone has had enough of these storms. On the one hand, I'm glad to see that it's not heading into the Gulf. I mean, I think Texas/Louisiana/Alabama have had enough! But then again, so have we! I'm actually, as it stands now, not in too much danger. The storm is pretty compact, and I'm far enough north ( this is a LOOOONNNGGG state!) that I'll probably only get tropical storm affects. But Tig, and DeflepKim will be right in the "firing range"! Kim is in Miami, and Tig is in West Palm Beach ( well, a little town west of there, but you get my drift!) They are much further south than we are, and I hope you two are getting ready. I'll try and find that old graphic of mine, and let you all see the "lay of the land" so to speak. But as we all know, things could change between now and Saturday/Sunday. It could turn and hit somewhere entirely different. "If the front weakens, If the prevailing winds shift.."- YADA, YADA! So, cross your fingers for us down here in the good old Sunshine state. 'Cause here we go AGAIN!

Other than that, not a lot going on in my world. All the little things I wanted to get done are now on temporary hold, since most involve either lots of trash ( which I can not leave outside, as our next pick up is supposed to be Saturday) Or yard work. I can't see planting new plants outside with a storm coming, since they'll just be turned into projectiles. So I guess I'll have to find something to do inside. Maybe upload some more of my CD's on my I-Pod. Becky is laughing her arse off at me, because she has twice the music on her's than I have on mine, and she's only had her's for 3 months. Yea, that sounds like a plan. I also have to make sure the house stays clean, since I *may* have company this weekend. If the storm comes close enough, my Mom and Rae will be evacuated, and we all know where they'll be headed!

Have a great "hump day"! I'll try to post that graphic, and let you all know what's up as we find out.
Peace and Love, KC
..........................................
**update**

Ok, "here we are",


As you can see, they're alot closer to the predicted path than I am. Most of the rest of my friends live further north than I do. Kat lives in Orlando, as does Pete. Janine lives in Ocala, so she's farthest from the storm ( as it stands now) Marshall, a friend from college, lives over on the West Coast somewhere, but I'm not sure where ( Janine- HELP!?). I just hope he's not in the path. Well, if wishes were coins, we'd all be rich!
Peace, KC

P.S.- I changed the song on here. It's appropriate, don't you think?? ;-)
Invisioned on |8:09 AM|
* * *
Monday, October 17, 2005
I Wonder?
Is it possible to have 2 plates on your car? If so, Kimmy found the other one I'd like:


Isn't that a Hoot?! Not only is it a Breast Cancer plate, but WOW! Someone with a good idea, Huh? Thank you Kim for thinking of me! MWAH!

Well, we didn't get the new sink in. I just wasn't up to the hassle yesterday. But at least we have all stuff we need, so perhaps sometime this week I'll break down and be a plummer. I did however have a minor miracle happen.

As you all know by now, Sunday is "housecleaning" day in the Fine world. Well, as usual, I informed the kids that I was coming in armed with a trash bag, if they didn't pick up. THEY DID IT! Not only did they clean up without any hassles, but they decided to do additional work. We have 2 cabinets that house our somewhat vast collections of Video's/DVD's. Well, they went through both, and cleaned out those that were no longer needed ( i.e.- tapes that we now have on DVD) or just old, broken, no longer wanted, etc! They also ( mostly Andy here) organised all the Gamecube/Nintendo stuff, so when you open that cabinet, it all doesn't fall out on your feet! Miracles never cease! Floors were washed, windows cleaned, lawn is mowed, without one peep of complaint! I swear, I want to bottle yesterday and use it every week! We also managed to clear out a bunch of old books from the bookshelves. These will be taken down to the local library by me later today. Most are books that belonged to my Dad, that have just sat there gathering dust. While it may look cool to have all that "intellegent reading material" on my shelves- I can't see keeping it there. I've already read those that I wanted to, so why not share?

Now, those of you that are not fans of football with have to bear with me a minute.
WTF were Pittsburgh thinking putting in Maddox? One of the few times per season I actually get to see them on TV ( they played Jacksonville, which is concidered a "local" team here) and I had to watch THAT poor excuse for a quarterback! Yes, I know Ben is injured. But MADDOX?? That guy hasn't thrown in a game since early LAST fall! Even WITH him in, they almost had the game. But his sorry arm caused them to lose. Memo to Maddox- Your team wears the Black & Gold uniforms- ASSHOLE!
( ok, sorry- I feel better now!)

Well, I may do some work outside today. We finally are getting a break in the sweltering weather down here. While it's still in the 80's during the day, the humidity is finally down, and it's actually cool enough at night to open the windows. My electric bill might actually come down to a reasonable level! Wonders never cease!
Well, I'm in such a good mood today, I'll leave you all with this little giggle from Janine. And then some....

Modern Relations


One day, a little boy goes to his father and asks "Daddy, how was I born?"

The father answers: "Well, son, I guess one day you will need to find out
anyway!

Your Mom and I first got together in a chat room on Yahoo.

Then I set up a date via e-mail with your Mom and we met at a cyber-cafe.

We sneaked into a secluded room, where your mother agreed to a download
from my hard drive.

As soon as I was ready to upload, we discovered that neither
one of us had used a firewall, and since it was too late to hit the delete
button, nine months later a blessed little Pop-Up appeared and said:

"You've Got Male!"
.................

Oh and before I forget: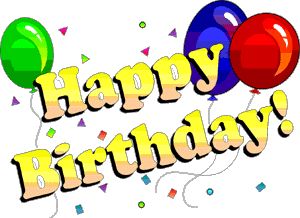 Happy Birthday Karrie! Have a great day Sweetie!

Peace and Love to all! KC
Invisioned on |7:56 AM|
* * *
Friday, October 14, 2005
I'm Tired
And thankfully, the kids have no school today. Which means I'm still sitting here in my P.J.'s. But I've got a load of stuff to do today, so I'll have to get moving soon.
Yesterday, our bathroom sink sprung a leak. And Becky's best friend's birthday is today (HAPPY BIRTHDAY ERIN!). So we'll have to go get her a gift, AND get a new sink. And I have to go by my store, because I've decided to go back to work ( whether I'm totally healed or not) on Nov. 5th. I just can't take this sitting around shit anymore. Taking 3 months to heal from a simple-ish surgery is just nuts! Plus we're coming up on Christmas season, which means it will be busy there, and hopefully they'll need my help. Anyway, I have to go in and talk with my store manager, and let him know. I've already called my co-workers, but I have to talk to him to make it "official"!
So a busy Friday for me. And hubby will have to put in a sink this weekend. Scary! Jon, while an excellent father, husband and cook- is not what you would call "mechanically inclined". I have a feeling I will have to do most of it, just to keep the foul language down to a minimum! All those BIL-SIL in the family, and not one plummer. Crap! And I am NOT paying someone to come in and do it. I have enough bills, thankyouverymuch!
Well, after thinking about all this, I'd better get off here, and get motivated. And get Becky out of bed- which will be the hardest job I have all day ( *wink* teenagers!) I'll leave you all with today's funny, complements of my cousin Rae:



ONLY IN AMERICA:

Only in America.....Do drugstores make the sick walk all the way to
the back of the store to get their prescriptions while healthy people can
buy cigarettes at the front.

Only in America......Do people order double cheeseburgers, large
fries, and a diet coke. !

Only in America......Do banks leave both doors open and then chain
the pens to the counters.

Only in America......Do we leave cars worth thousands of dollars in
the driveway and put our useless junk in the garage.

Only in America......Do we buy hot dogs in packages of ten and buns
in packages of eight.

Only in America......Do we use the word 'politics' to describe the
process so well: 'Poli' in Latin meaning 'many' and 'tics' meaning
'bloodsucking creatures'.

Only in America......Do they have drive-up ATM machines with Braille
lettering.

EVER WONDER ..

Why the sun lightens our hair, but darkens our skin?

Why women can't put on mascara with their mouth closed? !

Why don't you ever see the headline "Psychic Wins Lottery"?

Why is "abbreviated" such a long word?

Why is it that doctors call what they do "practice"?

Why is lemon juice made with artificial flavor, and dishwashing
liquid made with real lemons?

Why is the man who invests all your money called a broker?

Why is the time of day with the slowest traffic called rush hour?

Why isn't there mouse-flavored cat food?

Why didn't Noah swat those two mosquitoes?

Why do they sterilize the needle for lethal injections?

You know that indestructible black box that is used on airplanes?
Why don't they make the whole plane out of that stuff?!

Why don't sheep shrink when it rains?

Why are they called apartments when they are all stuck together?

If con is the opposite of pro, is Congress the opposite of progress?

If flying is so safe, why do they call the airport the terminal?

Happy Friday all! Peace and Love, KC
Invisioned on |7:49 AM|
* * *
Wednesday, October 12, 2005
"One for the Thumb!"

My cousin Rae got me that one!( It's a Steeler thing, so Melanie and Michael will understand. Or anyone really into Football )

Actually, I have a bunch on the back of my car: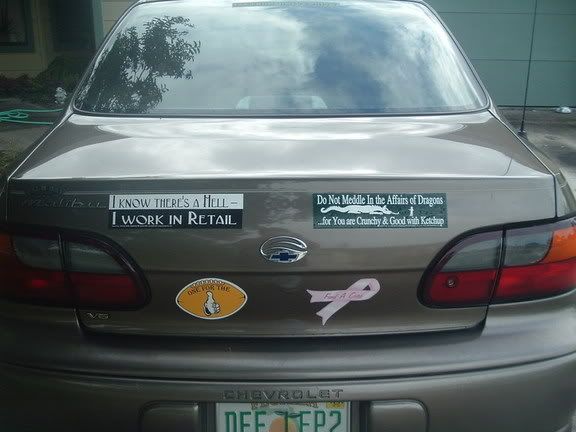 The pink ribbon is obvious, the others are just for fun!
And before you say;"what is she doing trashing her car up like that?!" they're all magnetic. Which means I can take them off to clean the car, or just because. I have about 6 of them, and I rotate them in/out depending on my mood. Although the "retail" one has managed to stay there the longest! Call it my version of a mood ring ;-)




Today is a special day in my family. 74 years ago, a lady was born that without which, I wouldn't be here! SOOOOOOOO........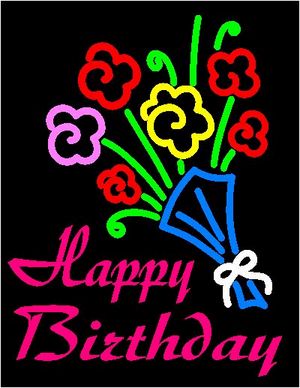 Happy Birthday, JoAnn Campbell! I love you Mom! **MWAH**

(Who, btw- just called me. Seems that chasing that silly puppy around, she went and broke her foot! Some birthday present Huh?! She now joins me in the "disability blues"!! hehehehe!)

Have a great day all! Peace and Love, KC
Invisioned on |8:07 AM|
* * *
Tuesday, October 11, 2005
Go Steelers!
Although, I hope Ben gets his knee straightened out- or we're TOAST!

I was thinking about this because I got to see my cousin today. And she brought me some Steeler's stuff. A pen, keychain, a pic of Ben ( which I'll post tomorrow, it's one of those post office things for Rookie of the year) and a magnetic football for my car that says " One for the Thumb!". Now I just have to replace my "terrible towel". Not that there's anything wrong with it. But it's REALLY OLD! I mean, it's so old it's one of the original black ones! So I need to get a new one that I can use, and put away the old one.
Then we went out to Best Buy, because Mom needed a new VCR. Well, as you all know that's like a candy store to me. I did pretty good though. I only bought 3 things. The Goo Goo Dolls 4th of July CD/DVD, Cinderella on DVD ( for Kimmie)... and...



I got the DualDisc one since it was just $2 more. So I'm off the hook with at least one of you *coughRobincough*.
That's all for now. Jon called and told me he's working in Orlando today. So I'm up at bat for dinner ( pray for us - Huh?!) so I'd better go defrost something, or it's gonna be Domino's tonight!
Peace and Love, KC
Invisioned on |1:34 PM|
* * *
Monday, October 10, 2005
Just another day

The twistedly Funny Tee!
You are harmless. Just a goofball that can see the
humor in the dark and dysfuntional parts of
humanity. Unlike other twisted characters you
are well-liked by a variety of people, they
laughter is a universal language. You are very
smart and can understand people in much better
way. You are still dark , you are quite quirky.
You are prolly the one out of your friends who
goes on yapping about abstract ideas wihle
hitting the bong! You are very thoughtful and
usually deep in thought, but most people just
think your funny and weird. =)

Your Funny Movie: The Longest Yard
Your Music: Green Day
Your Funny accessory: A smiley face, (that looks
high) patch on your backpack or clothes.
Your Future job: Comedian or Counselor


Askin ya....What Twisted Word Tee-shirt are you? ( think Demented)
brought to you by Quizilla

Just thought this one was fun.

Well, I got some lousy news/mail the other day. It seems that my loving insurance company is trying to put me in the poor-house. It seems that when I had my radiation treatments, they want to charge me an "office visit fee" for EACH DAY! And it's the " specialist visit" fee at that! That's $50 for each day, 28 days of treatments! OUCH! Now I'm beginning to think that the family vacation we took was a little hasty. And I think that when I get back to work, I'm going to have to put in some serious overtime, just to catch up! So much for a "Merry Christmas" around here. I know that I don't have to pay the bill all at once, but this is the type of thing that I really don't like hanging over my head. But there's nothing I can do about it, so I'll just have to deal. At least they paid SOME of it, right?

Well, I've got to get ready for company. One of my cousins is coming into town this week. And since Mom's taken the next 2 weeks off, I'm sure I'll be called upon to run around with them. Not that I mind, but sometimes it's tiring. Oh, and I'll give you all a giggle. My Mom called me from the local "venue" the other day. ( It's called the King Center) and asked if there were any good shows I'd like to see. Seems she wanted to buy tickets for the 3 of us. Well, My cousin is a BIG country fan, so I said Trisha Yearwood. I'm not a big fan, but what I've heard of her music, I would probably enjoy it. I KNOW they wouldn't want to go to the ones that I would like ( Rob Thomas, or Billy Idol- both of whom are playing there in the next 2 weeks)! Well, she called later, and said she couldn't get tickets for that show, so she got them for "A Tribute to ABBA"!? SCARY! I'm sorry, and no disrespect to that band, but I never liked their music. Now, HOW DO I GET OUT OF THIS??? I'm hoping that she can find another one of her friends to take, or I'll have to go, and try not to cringe all night. ;-)

Well, I've got some left-over laundry calling my name. And there's new lyrics scrolling- so get cracking friends! I'll catch you all later and see who's the winner this time!
Have a great Monday! Peace and Love, KC
Invisioned on |6:49 AM|
* * *
Sunday, October 09, 2005
A Special Day
For a Special Lady: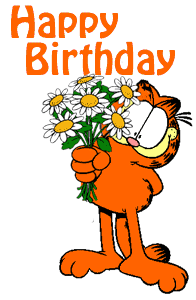 Happy Birthday Rhonda Elizabeth! May your day be filled with Laughter, Love, and smiles!
Love and Peace to you Sweetie! KC
Invisioned on |9:49 AM|
* * *
Saturday, October 08, 2005
Silly Saturday!
Five tips for a woman....

1. It is important that a man helps you around the house and has a job.

2. It is important that a man makes you laugh.

3. It is important to find a man you can count on and doesn't lie to you.

4. It is important that a man loves you and spoils you.

5. It is important that these four men don't know each other.


Foot Note:

One saggy boob said to the other saggy boob:
"If we don't get some support soon, people will think we're nuts."

Hope your having a good one! KC
Invisioned on |11:26 AM|
* * *
Friday, October 07, 2005
Friday, and back to normal
Which of course, means PICTURES!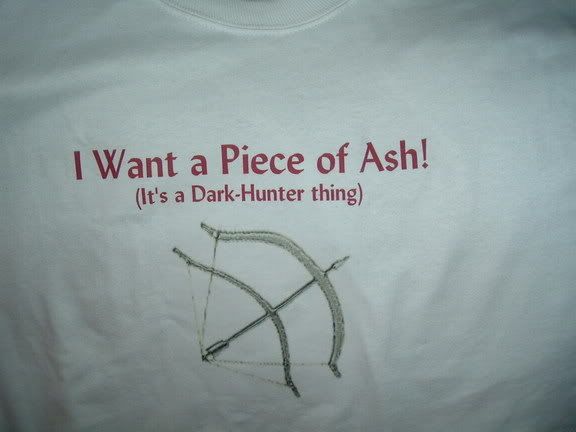 This is a T-shirt from the book series I'm addicted to. Jon said "at least it's not
Def Leppard"! I guess I tend to "wear my heart on my sleeve" as it were.

Well, the bills are all paid, and there's money left. So Hubby and I are off to BJ's today, to fill the freezer, and see what other bargins await. I like going there, except for the fact that it costs dear to get out! Buying in bulk ( especially with MY family) is cost efficient, but it sure doesn't feel that way when I get the bill! The fact that I'm buying say, 3 large jars of Jiff, (for the price of 1 & 1/2 in the regular grocery store) that will last 4 months, still hurts when it costs $6! I never seem to get out of there under $100, and if I took the kids as well, it would be closer to $200! That's why I've been going on Friday afternoons. Jon gets off early on Fridays ( he works 10 hour days Mon - Thurs, and works 1/2 day on Friday) and we can go there without hearing "Mom- I need......!" Hey, it saves on the nerves & gray hairs!

Oh YEA- IT'S FRIDAY!!!!!!!

Todays weekly "offering" comes from a friend at work, Nina. Thanks Sweetie!

Subject: Church Bulletin Bloopers!!

Thank goodness for church ladies with typewriters. These sentences actually
appeared in church bulletins or were announced in church services.

**********
Bertha Belch, a missionary from Africa, will be speaking tonight at Calvary
Methodist. Come hear Bertha Belch all the way from Africa.
**********
PRAYER & FASTING Conference: "The cost for attending the Fasting and Prayer
Conference includes meals."
**********
The sermon this morning: "Jesus Walks on the Water." The sermon
tonight: "Searching for Jesus."
**********
Ladies, don't forget the rummage sale. It's a chance to get rid of those
things not worth keeping around the house. Don't forget your husbands.
**********
The peacemaking meeting scheduled for today has been canceled.
**********
Remember in prayer the many who are sick of our community.
**********
Smile at someone who is hard to love. Say "Hell" to someone who doesn't
care much about you.
**********
Don't let worry kill you off - let the Church help.
**********
Miss Charlene Mason sang "I will not pass this way again", giving obvious
pleasure to the congregation.
**********
For those of you who have children and don't know it, we have a nursery
downstairs.
**********
Next Thursday there will be tryouts for the choir. They need all the help
they can get
**********
Barbara remains in the hospital and needs blood donors for more
transfusions. She is also having trouble sleeping and requests tapes of
Pastor Jack's sermons.
**********
The Rector will preach his farewell message after which the choir will
sing: "Break Forth Into Joy."
**********
Irving Benson and Jessie Carter were married on October 24 in the church.
So ends a friendship that began in their school days.
**********
A bean supper will be held on Tuesday evening in the church hall. Music
will follow.
**********
At the evening service tonight, the sermon topic will be "What Is Hell?"
Come early and listen to our choir practice.
**********
Eight new choir robes are currently needed due to the addition of several
new members and to the deterioration of some older ones.
**********
Scouts are saving aluminum cans, bottles and other items to be recycled.
Proceeds will be used to cripple children
**********
Please place your donation in the envelope along with the deceased person
you want remembered.
**********
Attend and you will hear an excellent speaker and heave a healthy lunch.
**********
The church will host an evening of fine dining, super entertainment and
gracious hostility.
**********
Potluck supper Sunday at 5:00 PM - prayer and medication to follow.
*********
The ladies of the Church have cast off clothing of every kind. They may be
seen in the basement on Friday afternoon.
**********
This evening at 7 PM there will be a hymn sing in the park across from the
Church. Bring a blanket and come prepared to sin.
**********
Ladies Bible Study will be held Thursday morning at 10 AM. All ladies are
invited to lunch in the Fellowship Hall after the B.S. is done.
**********
The pastor would appreciate it if the ladies of the congregation would lend
him their electric girdles for the pancake breakfast next Sunday.
**********
Low Self-esteem Support Group will meet Thursday at 7 PM. Please use the
back door.
**********
The eighth-graders will be presenting Shakespeare's Hamlet in the Church
basement Friday at 7 PM. The congregation is invited to attend this
tragedy.
**********
Weight Watchers will meet at 7 PM at the First Presbyterian Church. Please
use large double door at the side entrance.
**********
The Associate Minister unveiled the church's new tithing campaign slogan
last Sunday: "I Upped My Pledge - Up Yours!

Have a great day all! Peace and Love, KC :-)

P.S.- Ok Kim, now look what you started!!


Your Hair Should Be Pink

Hyper, insane, and a boatload of fun.
You're a traveling party that everyone loves to follow.



Scary, No? hehehehehehe!!!!!! Peace ( maybe :-P) KC

Invisioned on |6:50 AM|

* * *

Thursday, October 06, 2005

Well, so much for more pictures...

..Since Photobucket is M.I.A. So I'll tell you about a little "problem" we're having. Actually, problem is not the right word, but you'll see.

I was in the kitchen the other day, and for once the radio was off. I normally have some music playing while I'm alone, but whatever. I heard a "tapping" at the slider door that leads to our back porch. At first, I didn't think anything about it. But it started to get louder - and of course, being all alone, I thought someone was trying to break in ( heavy curtains prevented me from seeing outside from where I was at!) So, being the semi-resourceful person that I am, I grabbed one of our 7 in chef's knives, & with my cell phone open in the other hand ready to hit 911, I slowly made my way to the doors.( picture if you will me doing my best ** enter your favorite cop show** moves here! BTW - would their hands shake?) The tapping continues, and I reach the curtains. Taking a deep breath I WHIP open the curtains-------------
.
.
.
.
.
.
.
.
.
.
.
.
.
.
.
.
.
.
.
.
.
.
.

There is a Morning Dove pecking at the door!! WTF? And it keeps coming back!? He/she has been tapping at our door for the past week or so. Now, what could possibly possess it to do this? And how silly do I feel? I mean, I've spent a considerable time alone in the house since childhood ( you get used to it being an only child). But I'd never been that scared before! And I still get jumpy when it happens ( as it did this morning!) How do I get this bird to stop? I mean, it's not like there's anything that looks edible/interesting on the backside of those curtains?? Interesting, to say the least. I have filled the bird feeder in the back yard, in the hopes it will draw our little friend away. I just hope it doesn't invite more birds to join in. Like I need that on my nerves lol!

So, if you have any ideas, let me know! I'll be back later, and hopefully Photobucket will come back to life!
Peace and Love, KC

Invisioned on |8:21 AM|

* * *

Wednesday, October 05, 2005

Back to the Silly Stuff!!

How You Life Your Life

You are honest and direct. You tell it like it is.
You're laid back and chill, but sometimes you care too much about what others think.
Your friends tend to be a as quirky as you are - which is saying a lot!
You tend to dream big, but you worry that your dreams aren't attainable.



Well, that's me alright!
I guess today will be cleaning day. Since that "Tammy" is offshore, the weather has been absolutely crappy the last few days. One minute sunny, the next rain with winds up to 40 mph! Not the kind of day you want to get caught outside in ( and Hubby works out in all that!), So I'll find something to do around here. I have to find something to get me off the computer, 'cause I bought 3 more things off that silver jewelry site! And I put in a couple more bids on e-bay. Sheesh, I need a life!

I did take an hour this morning and listened in to the DL program on XM sattelite radio. ( No, I don't have one, I listened online). I signed up for a 3-day free trial online so I could hear it. WOW! They really had a good time, and sounded amazing. If you get the chance, sign up and listen. They'll be on a few times more this week ( check the website via the OS) It' was a great way to start the day! Even Sav did alot of talking, which we all know is VERY unusual! Well worth the effort.

Well, that's it for today. Oh, and for those of you that "tagged" me for that 23rd post thing? I went back and checked, and it actually fell on one of the "Friday funnies" posts. Which means it wouldn't have made a bit of sense, so I passed. But I do appreciate the "Linky Love" guys! I may work on the "name that tune" thing later today, if I remember.
Have a good "hump day" all!
Peace and Love, KC

P.S.- Is blogger acting funny today or what? I know Photobucket is off, but my blog will only load 1/2 the way, and now the comments are gone???????????????

Invisioned on |10:19 AM|

* * *

Tuesday, October 04, 2005

Good News Tuesday!

First the news, then the pics!
I just ( 2 minutes ago!) heard from Metlife. I have been extended through Oct 28th, with options to extend longer. She said I'd just need to send in office visit notes, as they see my problem more clearly now. WHEW!
AND MY PAY SHOWED UP! WOO HOO! Although after paying bills, I'm still not rolling in it, at least the "wolf" as gone off to bother someone else! So I think my mind will be back on a more normal plane now! ( which of course means I'm bound to get silly again!) Good news all around!
I have to go to Dr. B this morning, but I thought you all would like to see these. A couple of T-shirts that Jon and I got while at KSC. His is the first two pics ( front and back) and mine is one that the kids saw, and said I had to get:
Front-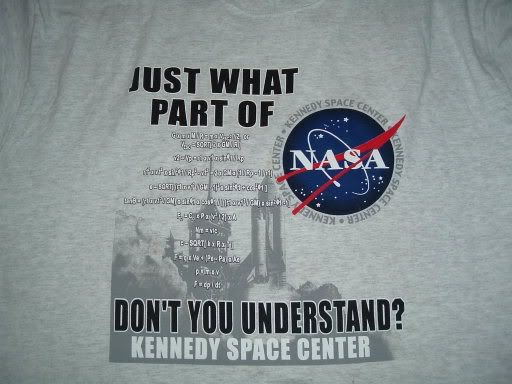 Back-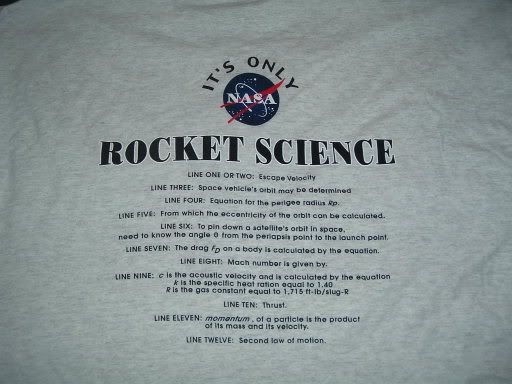 Suits Jon to a "T", since he's such a science-guy. ( BTW- Orion, you can order these on KSC's website, if you'd like ;-))

And mine- appropriate, don't you think?




Well, off to the Dr's. I just wanted to let you all know that things were "back to normal" here, and I'll be back later, hopefully with some smart-arse remarks ( or something!)
Love and Peace, KC
Invisioned on |7:46 AM|
* * *
Monday, October 03, 2005
Monday morning stuff....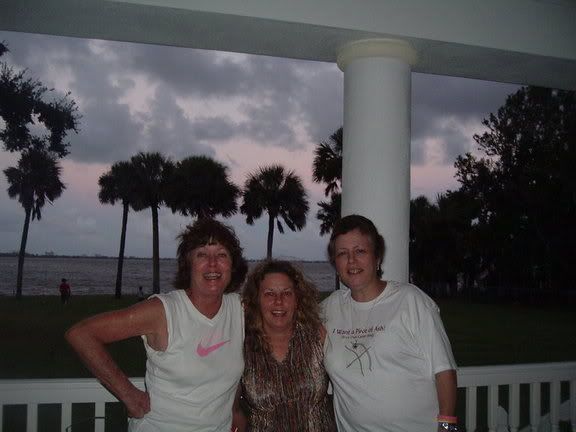 My SIL's ( well, 2 of the 3!) Patsy ( where we spend most Saturdays) Janet ( Hubby's twin, and wife to "River BIL") and me!
Yes, I know I said I'd be back here after I went to the Dr. Well, they just called and rescheduled me. Seems something came up, so I'm spared the pain for today! Anywho, I thought I'd do a little preaching today:

October is Breast Cancer awareness month. As you all know,I've been dealing with that "beast" for the last year. And although I've finished my treatments, and am healing from reconstruction, my fight is not over. Did you know it will be 5 YEARS before I'm officially declared "cancer free"?? 5 YEARS! and though I'm optimistic that everything will go fine, there is always the chance that it may reoccur ( as Tig can testify). So I will continue to do my part in the battle. But I'll always have that "Sword of Damocles" hanging over my head. Now, here is where you all come in:

I want every one of you show someone how much you love them. If you are a man, take your wife/mom/sister/friend to get a mammogram. You women of my age, get one yourselves. Take your Mom/sister/friend with you. Make it a party! Lunch, mammo, shopping! If you're younger, do the same for one of the above. Check your breasts weekly. (for the Guys- this should be a fun task for you!!! :-p) I don't want to see ANY OF YOU go through what I have. If you catch it early enough, the chance of cure is 98%, and you won't have to go through 1/10th of what I did. I didn't catch is soon enough. I had all the excuses: it doesn't run in my family, don't have time to get the test, Yada,Yada,Yada. STUPID, STUPID, STUPID! I just can't say it enough-
GET TESTED DAMN IT!

I love each and every one of you. I would come to you and hold your hand if I could. But this is the best I can do at the moment. Go, get it done. And notice up by my profile, I have a new link. Click on it, and there you can click to fund mammogram's for those who can't afford it. Save yourself, and then help save someone else. It's a battle we all can win. But I truly hope with all my heart you never have to wage it!
Ok, Off my soapbox now. I'll be back later with our regularly scheduled silly stuff.

Peace and Love, KC
Invisioned on |8:00 AM|
* * *
Sunday, October 02, 2005
Saturday Evening on the River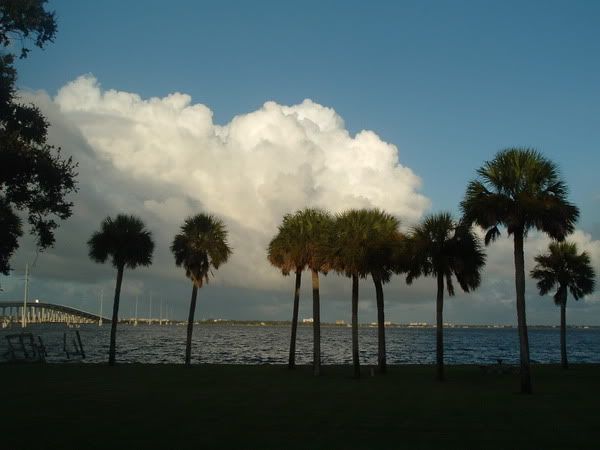 Just a quick note today. Had a great time at the BIL's yesterday. Once again, entirely too much food/booze/fun to be had. Not that I overdid, but some...well...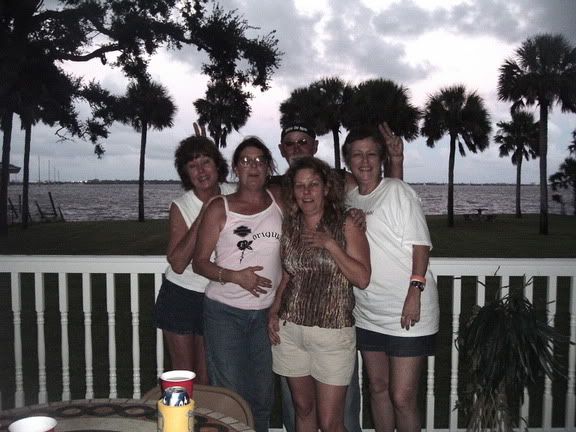 Just a couple of crazy people. yes, that's me on the right ;-)

I'll post some more tomorrow, but I have a house that needs my attention, and a pile of laundry with my name on it. Since I don't know whether I'll be back to work or not until tomorrow, I'd better get as much done as possible today. I would hate to get caught "with my pants down"- so to speak! I go back to the Dr's tomorrow morning too, for another "dose of pain". Think of me- I'll let you all get back to your weekends, hope your having good ones!
Peace and Love, KC
Invisioned on |1:37 PM|
* * *