Friday, December 02, 2005
A Special Day....
For one of the best Bass players in Rock: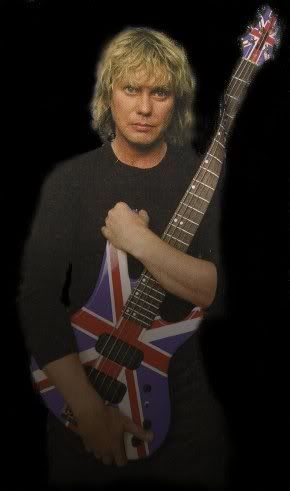 Happy Birthday, Richard Savage!

Well, I'm probably going shopping with Mom today. Unless I can find a way out of it! I'm really feeling tired, and I'd like to get some things done around here! Like clean, WRITE OUT SOME CARDS! And relax. This has been a stressful week at work, and I could use some down time. I hope I can convince her to wait until my next day off ( during the week that is!) So that I will have my paycheck to do some shopping as well. Jon got paid yesterday, but that's being used for the various bills that have come in. And he gets his Christmas bonus around the 15th, so that would be a better time for me to spend on gifts! Here's hoping I can bring Mom around to my way of thinking!

Other than that- it's going to be a *hopefully* boring day. And tomorrow is Jon's Holiday party so that should give me something to tell you all about. An "Argentinean Steakhouse"? I'll take my camera ( or at least my phone!) and try to sneak some pics for you all! And then Sunday is just another day ( Yea, right! AS IF!) But I can guarantee there'll be Shrimp for dinner ;-)

So I'm off to see if my "little black dress" still fits, and to gather up my cards to send off. I'm already getting some of yours, and they have truly made me smile! Not easy to do this week, I can assure you! And without further ado- YOUR FRIDAY FUNNIES! This week supplied by Janine! ( Hi Sweetie!)


INTERESTING OBSERVATIONS

1. The sport of choice for the urban poor is BASKETBALL.

2. The sport of choice for maintenance level employees is BOWLING

3. The sport of choice for front-line workers is FOOTBALL.

4. The sport of choice for supervisors is BASEBALL.

5. The sport of choice for middle management is TENNIS.

6. The sport of choice for corporate officers is GOLF.
AMAZING CONCLUSION:
The higher you are in the corporate structure, the smaller your balls become.

..................................

Subject: The Barbecue

A man and his wife were working in their garden one day.
The man looks over at his wife and says: "Your butt is getting really
big I mean really big. I bet your butt is bigger than the barbecue."

With that he proceeded to get a measuring tape and
measured the grill, then went over to where his wife was working and
measured his wife's bottom. "Yes, I was right, your butt is two inches
wider than the barbecue!!!" The woman chose to ignore her husband.

Later that night in bed, the husband was feeling a
little frisky. He made some advances towards his wife who completely
brushes him off. "What's wrong?" he asks. She answers: "Do you really think I'm going to fire up this big-ass grill for one little weenie?"
.............................
Have a great weekend!
Peace and Love, KC!
Invisioned on |8:28 AM|
* * *