Sunday, April 23, 2006
Despite the drought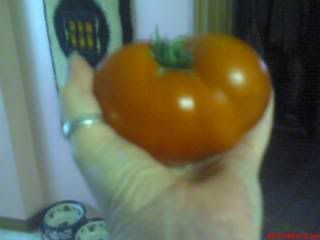 "Big Bertha"- well that's what I call it. The first of the "fruits of my labor".

Well, I've got just about all my stuff done for the weekend. I've even made my lunch for the week. I make this macaroni salad, which has tunafish in it. It's fast, easy and healthy. So I have plenty to keep me from getting into trouble ( RE: Chic-fil-a!) for the week. I just have to do the bath thing with the kids - and hopefully me!

I want to thank Kat & Jude for sending me some fuel for the Friday Funnies. I get some from my cousins as well, but lately they just forward them, and they don't want to come through on my e-mail! So my supply is down to just the ones you all sent. I'm searching around for some on my own though, so I'll be back in the game in no time ;-)

I'm posting tonight, rather than tomorrow morning because I'll be off to Curves first thing, and probably will have just enough time to come home and get cleaned up for work. I'm really looking forward to getting into the swing of all that. And I'm going to go get my hair "shaped" this week. I think it's finally long enough to do something with. I know I want to get rid of all the ratty part on the ends that was left-over from Chemo. I just hope I don't have to go too short to do it! I really hate short hair on me. I've not gotten used to it- despite the time I've had to adjust to it!

Oh, and I just have to share this one: We have what they call "fairness in scheduling" at work. Which basically is that everyone has to work weekends, or at least one night a week. Well, "D" keeps scheduling me for night shifts. But almost every week, someone wants to switch with me. Well this coming week, she had me scheduled for 2 nights. But as of about an hour ago, I'm back to working none. It seems that her best ( or worst) intentions have been foiled again. Not that I mind working a night shift. But she always gives me mine on Fridays. Which is the day Jon gets off around 1pm. Which means he gets home, and I have to leave. Which is annoying to say the least. But at least she can't blame it on me. I never say anything about my schedule- it's my co-workers that ask ME to switch with them. Gives me a kick/giggle/smurk though! Sick and twisted, perhaps. But I have to get my jollies where I can HEHEHEHEHE!

Well, Dinner is almost ready. And Kimmie needs her bath- so I'd better get going. I hope you all have a great week. I'll be back to check up on y'all soon!

Peace and Love, KC!
Invisioned on |5:50 PM|
* * *