Wednesday, April 19, 2006
Yes, I'm still here
I've just started yet another thing to take up my time. I've started going to Curves this week. I'm just sick and tired, of well, feeling tired! And my clothes not fitting well, and my legs hurting after all day at work, etc. So I signed up Monday morning. I checked a couple of other places out. But this is the only one that's price and such is within reason for me. There's a great ladies gym down the road, but it cost MUCH more than Curves, and the penalties if you choose to leave are just ridiculous. Not that I'm setting myself up to quit, but with my health the last few years- I have to take into concideration that something *may* happen that would seriously curtail my working out. So I've been twice and I like it! Which is surprising since "working out" has not been something I've enjoyed in the past. As a matter of fact, the only thing I don't like about it is that they play a lot of Disco music in the background ( YUK!GAG!ICK!) But I can deal for 1/2 hour every other day. If I see results, that is!

I went to see my oncologist yesterday, and everything is great! He's even saying that we could take out my I.V. port sometime soon! Although I have to wait until I can switch insurances, and can get that surgery covered. Plus, I really don't want to have to go out from work so soon. I've been out too much the last few years! As much as I may biotch about it- it's nice to be back!

I'm leaving in about 20 minutes to meet Mom. She sees her surgeon today to discuss what options she's got with her Cancer. I'm thinging just a lumpectomy, with some radiation. The "spot" she has is really small, and it hasn't grown in the 2 years it's been there- so I can't see anything major for her- THANK GOODNESS! I surely wouldn't want her to go through what I did - at her age! Plus, as she said, she's not using the darn things anyway- you might as well just cut them off! ( Let me explain- My Dad passed in 1984, and she hasn't so much as looked at another man since. She's "had the best, and why settle for something less now?" Not to mention, she likes her independance!) Just think what she'd save on bras??!

So that's what's been up in my little world. That and following the "little" drama that's been unfolding in the Journey camp about an interview that Herbie Herbert gave to the Classic Rock Revisited site. Holy crap- That guy didn't have a nice thing to say about anyone in the band except Gregg Rolie! Check it out Here He called Steve Perry every name in the book, and some that I hadn't heard before! Talk about bitter- SHEESH!

Well, I'd better get my arse in gear. But before I go- A BIRTHDAY!: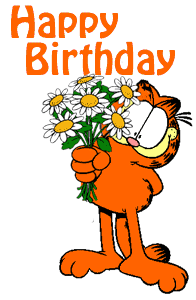 Happy Birthday Steph! Have a great day Sweetie!

Peace and Love to ALL! KC!

P.S.- Mom goes for her surgery May 2. She's having a lumpectomy, and will have 5 weeks of radiation treatments. Which is what I predicted. A BIG thanks for all your support and well wishes- they always help!
Invisioned on |7:42 AM|
* * *