Thursday, May 25, 2006
It's a special day!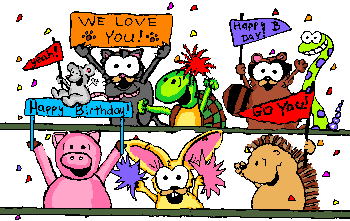 Happy Birthday Michael. Sol's very own "Studly Knight"! Resident artist extraordinare!
One of the first on-line friends I had. It has been a pleasure getting to know you Michael. If I ever get up to visit the relatives, seeing you will be top of the list of things to do! May your day be filled with fun, laughter, and smiles!

Well, Schools out here, and the kids are already trying to drive me "Looney Tunes". Andy's been hanging over my shoulder here all morning like a vulture. Kimmie's no doubt making a mess of my livingroom. Becky has just now crawled out of her bed, and is now laying on mine ( well, it's a start!)* warning- proud parent bragging alert!* My kids both passed their FCAT's with 4's in both reading and math!( graded 1-5 with 2.5 being a passing grade) And Andy brought home straight A's this last semester! ( Kimmie is too young for grades and FCAT- but she got all excellents/satisfactories in all her subjects!) I've always thought my kids were smart- this just backs up that theory in truth! ( p.s.- FCAT's are the state wide tests that are part of the "no-child-left-behind" thing. The tests that grade the schools, along with the students in them.) or as we like to call them- PITA tests!

We're off to meet with Mom, and get the kids their bathing suits. They've pretty much out-grown the ones they have and since Mom's got the discount at Bealls ( local clothing chain) That makes it easier on my finances! Which are a little drained due to a sudden increase in my CD collection ;-).

I'll be back later. I'm going to try and get some video for you all. Perhaps some poolside antics or some such.( Mom's townhouse complex has a pool- we don't!) And just for the record- there will be NO pictures of me in a bathing suit. Unless I'm in the water up to my chin! The world is just NOT ready for that!

Have a great day all! I will "see" you all later!
Peace and Love, KC!
Invisioned on |8:22 AM|
* * *