Monday, May 29, 2006
Just thought I'd share....
A couple of pictures I found:

The kids, circa 2002: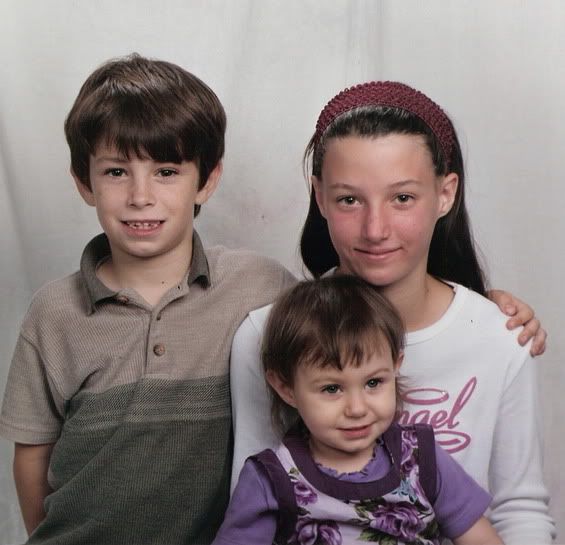 And at my BIL's wedding- (Andy was about 6 weeks old at the time, so I guess Becky is just shy of her 4th b-day in this one!) Me, Becky and Jon: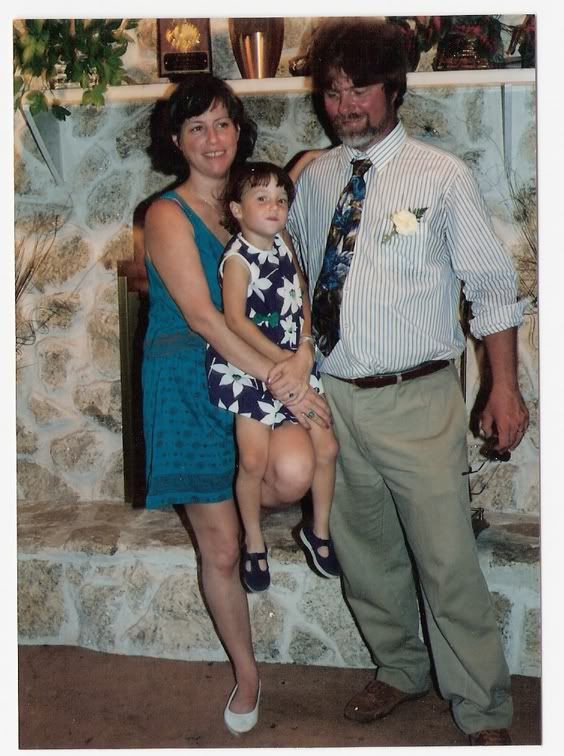 I've been watching the TV new recently. They've had a lot of info about Hurricane preparedness. One of the things they mention is to scan all your important documents, put them on disc, and into a safe-deposit box. And your important photo's as well. So I'm going to take one day to do that. But as I haven't exactly worked the scanner portion of my new printer, I thought I'd give it a try to see how easy it was. Works pretty good, doesn't it?! I'll have to get all the stuff organized before I start that task though. All of the important papers are in the file cabinet under their various headings. All those folders are right together- easy to snatch in an emergency though!

Work yesterday was pretty good. We were slow as heck, and "D" and I had a talk. I think we "understand" each other a little better now. Not that everything will be sunshine and roses from now on- but at least we both know where we stand. Should help to ease some of the tension though!

Well, I hope you all had a great weekend. We really didn't do a heck of alot. Just the usual cleaning and such. One thing I hate about Memorial day is that all the movies and shows on TV are "war" related. I've been treated to a "Band of Brothers" marathon all weekend long! Not that I think the show isn't good, but I'm not a big "war" movie fan. If I want that kind of reality- I'll watch the evening news, thankyousoverymuch! But the guys in the family loved it, so I just read a book!

We've had some rain lately. But not enough- and with it came lightening and MORE fires! I'm getting so sick of the smell of smoke in the air. And so many of the major highways are being shut down because of it. Hell, if anyone from the Orlando area wanted to come over here to the beach, they'd've had a hard time of it today. Most of the east-west roads from there to here were closed because of the smoke. We need about a week of solid rain before this will end- and they don't see that happening. *SIGH*

Well, I've got to get Kimmie's bath now, and finish folding some clothes. I did get lucky with the schedule this week. I originally was scheduled to work until 9pm Wednesday night ( which would have gotten me home after VH1 Honors started!) But due to a glitch, I now am only working until 2 pm in the afternoon. Plenty of time to get chores done, and settle down to a great night of TV. Becky and Andy and I will be camped out in the livingroom, with the DVR set, waiting to "GET ROCKED"!
If any of you want to share- you know where I'll be ;-)

Peace and Love, KC!
Invisioned on |5:47 PM|
* * *