Tuesday, August 01, 2006
OMG!
Julie had it right. The end of the world is close at hand. I could swear I saw 4 horses grazing in the backyard last night ;-). You see, I was talking last night to my hubby- saying how Andy had broken his cell phone. And I was going down on my day off this week to replace it ( it's insured, so no biggie!). Now, Y'All know my hubby- Mr. I-can't-run-the-VCR, Don't know about anything tech, "System Recovery"-is-my-friend hubby? He wants a CELL PHONE??!! "And I want a flip-phone please"??? Scary folks! Truly scary. So I'll get him one. I just hope I don't have to spend hours teaching him how to use it *sigh*.

Other than that, and the fact that I'm due into work in an hour, I just have one other thing to say today:

HAPPY BIRTHDAY to the best lead singer in Rock!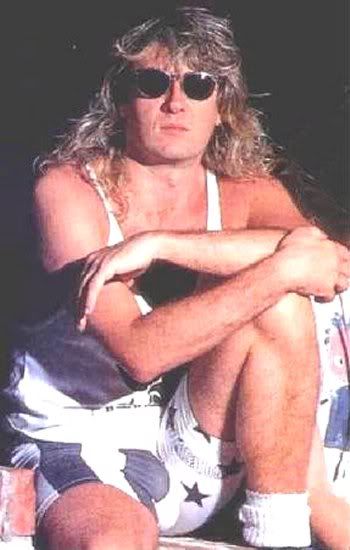 May you have a very relaxing day at home today. And may you have at least 50 more days like today. ROCK ON, JOE!

Now I have to put this body together, and get my arse to work. I heard yesterday that "D" has next week off. Now I have 2 things to celebrate next week. Her gone, and the Kiddies back at school. How will I stand it? :-P

Peace and Love, KC!
Invisioned on |6:05 AM|
* * *