Sunday, September 03, 2006
So.......
We got the kids off to school, and we left for Orlando. We really didn't have any idea what would happen, but I at least knew it would be a good day. I mean- it's VERY rare for Jon and I to get time alone. Doubly hard for us to go somewhere like this without them in tow. And I forgot how much fun it is to NOT have to deal with the usual: "Are we there yet"," I'm hungry/thirsty/bored", "I want/don't want to ride this", " MOMMMMMMM- He/she hit/touched/bugged MEEEEE!!!"

And so we got there about 10am. Found out the park was only open until 6pm, which was ok. I mean, we still wanted to have dinner somewhere, and get home at a decent time. Universal has 3 sections down here. There's the main Universal Studios park, Islands of Adventure park, and Universal Citywalk- which connects the other two. Citywalk has the Hard Rock Cafe, along with Margaritaville ( Jimmy Buffet's place), Emeril's, and others. So we had plenty of things to keep us busy. First stop: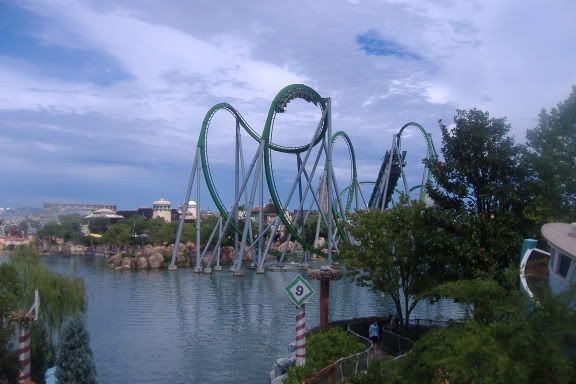 The HULK! WOW! That was one fast, cool coaster. One of the things I love is a good rollercoaster. I know- some think I'm crazy. But I just love getting spun around upside-down and backwards. They have a couple here, and we rode them all!!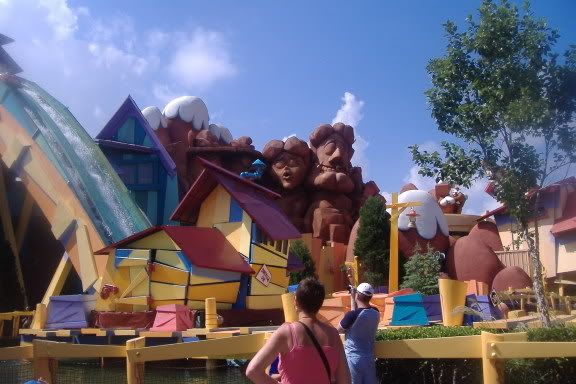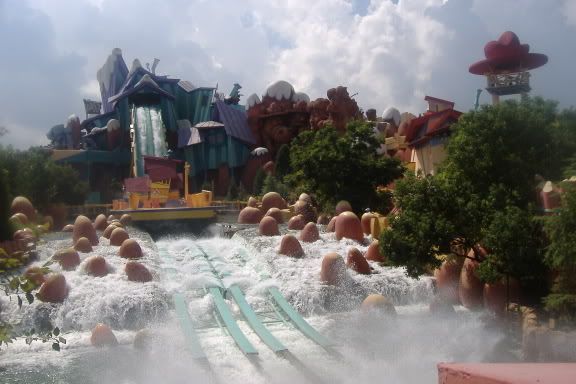 "Frostbite Falls" aka- the waterflume ride. Islands of Adventure is divided into sections. There's Marvel Superheros land ( where the Hulk is) Toon Town, Jurassic Park, The Lost Continent, and Seussville. Something for everyone, although what I really wanted to get I could not find. One of my favorite cartoons back when I was young was Rocky and Bullwinkle. I wanted a "Whatsamatayou" university T-shirt. Even though they had this major ride from that cartoon, I could not find a single R & B thing to get at any of the shops. Boy- was I pissed!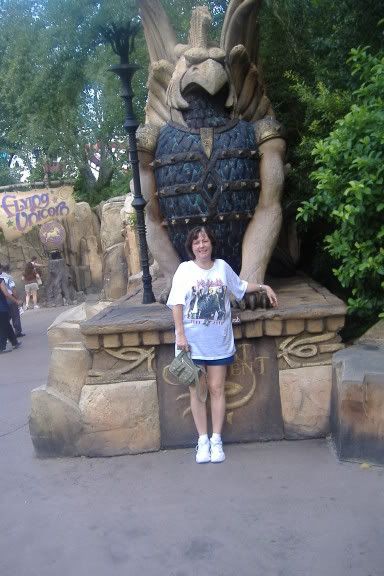 The entrance to the Lost Continent section.( I have a thing for gargoyles and other medieval creatures!) Notice that I look a little worse for wear? I had just done the flume ride, and was thoroughly drenched!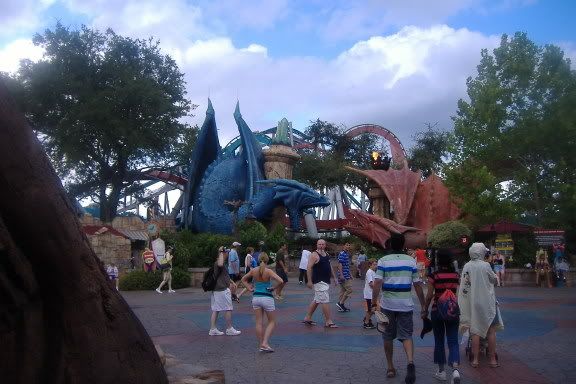 Dueling Dragons coaster. that was as close as I could get at the time. We had to put all bags in a locker before getting on the major rides, and after we got off it a storm came barreling through. We had to spend almost an hour hiding in the bar across the way, waiting for the rain/lightening to stop. I could not believe the number of people walking around, while the ( very vicious) lightening was happening. Guess they all had a death wish!

So, we finished up the day buying some gifts. Oh, and where did we have our anniversary dinner you ask?? :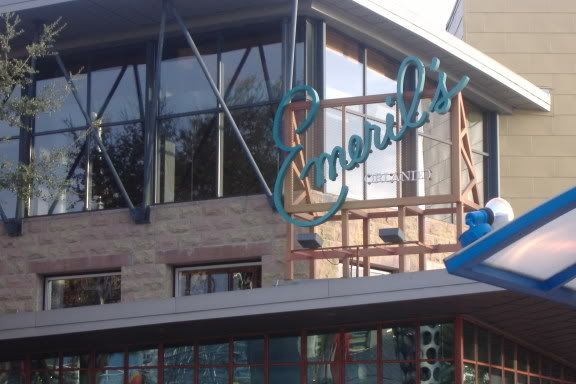 OH YEAH BABY!
I can say only this: I have tried for several years to get a reservation at this place. I've called as early as 6 months ahead, with absolutely no luck. But walk up to the place at 5:45, damp and bedraggled, and ask if they have a spot and BAM! 2 seats at the chef's bar!!! And I'll say this much; the food was everything you'd expect. Delicious just doesn't cut it- It was amazing-squared. The service was outstanding, and the price- well, it wasn't cheap- but it was no more expensive than our favorite "classy" restarant here in town. Which is where we would have gone if we had just gone to dinner alone. So no big in my opinion. And Jon can now smile and say he's eaten at his favorite chef's place. Which was worth every penny.

Since this park is quite literally in the middle of downtown Orlando, they don't have the usual large, spread out parking lots. Actually, the have 2 very large parking garages. Well, we happened to park on the top level of one. This is what we saw while we left: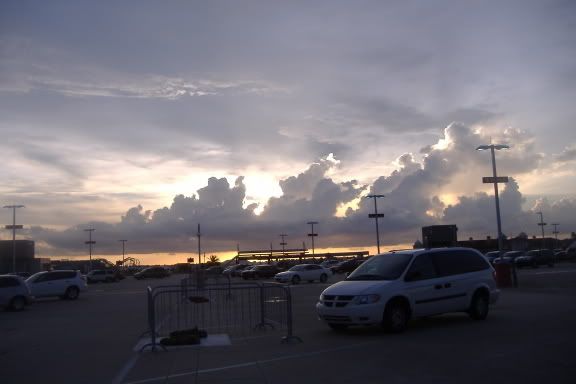 A beautiful end to a beautiful day.

We had a blast. And I was dead exhausted yesterday. Which only goes to show that while I still think like a kid- my body is not as young as it used to be. ;-)

SO I've got some cleaning to do. And I'll have to check back here tomorrow. There's a rumor about a tour date in Orlando in November. Fingers crossed all! This time I WILL GET THE 5 STAR!! I'll go alone if I have to!

Hope you all are having a great holiday weekend!

Peace and Love, KC!
Invisioned on |7:34 PM|
* * *