Thursday, November 30, 2006
Hey!
Still here, still working too hard, and sleeping when I can! But at least I'm getting some stuff done. All I have left is the X-Mas cards. Oh, and the shopping of course! But I don't mind that so much, and Becky wants to help me this year. At least, with the gifts for her dad and her siblings. She's getting the whole "better to give than receive" thing. She's getting as much a kick out of watching the faces of the others, as she is about opening her own presents. She's the one to yell- "slow down!" more often than not Christmas morning, which is fine by me! Oh- speaking of Christmas;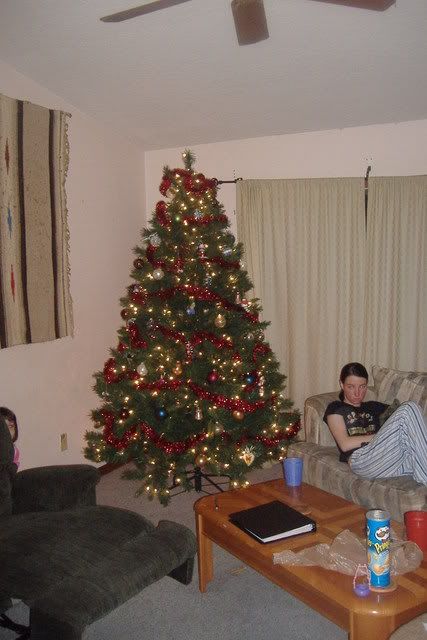 Our new tree. I just have to find a new skirt that I like. the old one went out with the old tree- the darn thing was WAAAYYY old!( I think my family had that thing when I WAS a kid- talk about ancient history lol!) Notice the requisite "bored teenager" to the right!

Work is work, as usual. I can't quite get "G" yet. He's sometimes easy to get along with, and then some days I just want to rip his head off. Oh well, at least we aren't getting the customer complaints we did when "D" was there!( although, yesterday I swear everyone took their "pissy" pills!) I just hope there are more good days than bad. And the time of year has a lot to do with it as well. We've all been sick, and the increased business ( ah, the Holidays! The very worst time to work in retail!!!!!) is not helping any one's demeanor!

Well, I work the early shift tomorrow, so I will try to get on here early to post our usual Friday fare. If you don't see it by 8:30am est- check back in the evening. I WILL get it up by then ;-).

Until tomorrow!
Peace, KC!
Invisioned on |11:09 AM|
* * *