Monday, November 06, 2006
WOW!
That's all I can say about last night's show!( A little background, if you will indulge me...)

Jon and I got to the hotel about 3 pm. It's very nice ( even if it's in a less than stellar neighborhood). Got our room, then decided to take a walk over to the TD Waterhouse. ( He just wanted the walk, I wanted to check for the buses!) I had left my purse with phone up in the room. Saw the buses, but not much else and came back. As we came up to the front doors, I noticed 2 buses parked outside. No, can't be, can it? YUP! Journey had apparently spent the night there, and as we walked into the lobby, who's standing there but Jeff Scott Soto himself!! Of course, with no camera and no purse- the best I could do was say hello and wish him a great show. He also had his family with him, so I decided not to try and bug him too much.

We went back up to the room, where I found no less that 5 missed calls on my phone! Yes, the pre-party had already started, without little 'ol me! SO I conned Hubby into going down early. I walked up to the table, said hello to everyone, and found a place to sit right next to this guy that I'd never met before. I asked him his name- he said "Gordon". Now, slow I may be- but after hearing him talk a bit ( that accent is unmistakeable!) I realized that it was "THE Gordan"! That's right! He of the Tour Diaries, and good friend to the band. When asked why he was there, he said he was tired of talking to them, and wanted to meet some of us!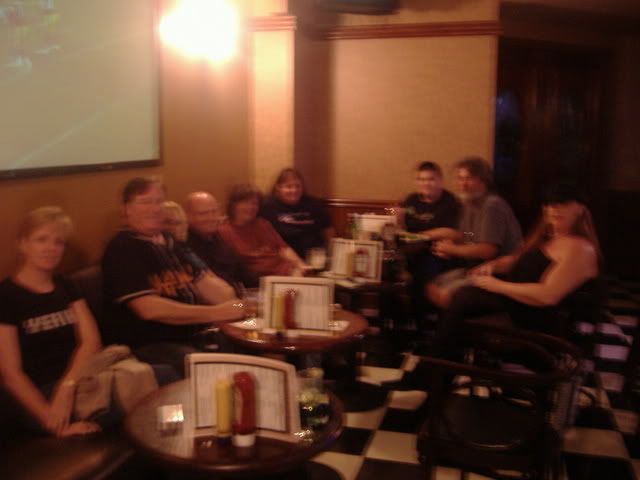 ( I forgot a few names- but 2nd from left- Scar, Sha, Gordon, Me, Kat, her son, Hubby, India- I don't remember the 1st lady's name with the Yeah shirt- Sorry! And I know it's blurry, but the waitress took it! )
We all talked for about an hour, and after he left I found out that he's doing another of his entries for the website. Apparently, the "powers-that-be" that changed everything around last spring have FINALLY figured out that the website/fan-club etc. were much better off before the switch. He answered some questions we had, though of course some of them rather cryptically-
1- Yes, the band know about all the problems with the fan club. They are working on getting that changed. ( he implied that Mark would probably have more of a hand in the site and such, but he wasn't definitive on that)
2- Yes, they do know about all the stuff/problems at the shows. Not minor ones mind- but if say security behaves badly at a certain venue, they will try very hard to either not play there again, or make sure that security is "taken well in hand" the next time they're there.

It was after he left that I found out about the diary he was working on. And according to the others that got there before me- we're lible to be mentioned in it- ACK! God- I hope I didn't say anything stupid!

Off to the show. I'll go into details tomorrow ( as I have to get ready to work here in a minute!) But both Journey and DL rocked the 'house! I got a reprieve after the Journey set- Hubby actually offered to be my "photographer" for the evening. That way- I could just enjoy the show, and he took the pictures! And afterwards, we went back to the bus area- where after an hour- Phil and Rick A. came out to sign stuff. I didn't get a "proper" picture with either of them ( it was just too crowded where we were) but Hubby got some shots of them signing my "Slang" cd booklet. And Gordon came out there and gave me the "Def Leppard Dressing room" sign from the venue! ( Thank you Gordon!)

Well, I have to get ready for work ( and I am sooooo tired!) But I will be back here tomorrow with more pictures ( some of them came out really good- maybe I should have Hubby take all my concert shots! ) I have to say, that Hubby really redeemed himself this time. He was the sole of patience, through both the pre-show gathering and after the show as we sat around in the cold ( Hey- 60 degrees down here IS cold- expecially in shorts and a t-shirt!) waiting for the band. But he did get into the photography end- see this:




The thudergod, signing my booklet. that's me with the silly smile in my Slang shirt.
Part 2 tomorrow. I also have to get something ready for Darren's site as well. So I'm going to be a busy bee the next few days!

Until then-
Peace and Love, KC!
Invisioned on |11:54 AM|
* * *