Wednesday, December 06, 2006
Jeez, where did the week go?
One of the worst things in the world about my job is the holiday season. I'd swear, instead of putting people in a good mood- it does the exact opposite! Grouches abound here, and they all seem to need medication ( well, they do! But not the kind they're picking up it seems)

Any-who- some things that I have going on.

First, I've found a website ( that I'm sure some of you have heard of) that has some really great bootlegs on it- guitars101. I've been scouring that site for good boots for the last week, although I had a little problem with the downloads once I got them. But I figure them out- now I just have to burn the darn things! Which brings me to chore #2....

You all know that this computer "crashed" last summer. Well it seems that I have totally LOST my Roxio CD! Which means I'm having a bit of a "burning hiatus" when it comes to DVD's and CD's. But I will be out and about tomorrow, and I'll just have to get a new program. My question of the week to you all- Which one should I get? I've used Roxio and Nero in the past, and while burning CD's is easy with both, I've had problems when it comes to formatting video on both. I just don't understand the process I guess, and I need one that's "idiot-friendly"- or for the Tech-challenged. Especially since I've got quite a few shorter video clips I'd like to put all on one DVD. Ah well, I'll figure it out eventually- I usually do.

Speaking of Videos- I've notices on a few blogs people asking about the "manager's video". Well, I happen to have a copy of that- amongst others. When I get the aforementioned program, I'd be happy to share! Some others I have:

Behind the Music
Argentina 1997
Milan, Italy 1993
Philly, 1993
3 continents in one day ( kind-of hard to hear/see, but pretty cool!)
rare and recent interview footage
Unplugged and Unshaved
Beacon theater on the X tour- all three nights!
Japan-Euphoria-1999

I'd be happy to share some of these with you all if you like- just e-mail me and we'll "Work it Out.......

Tomorrow Mom, Becky and I are finally going X-Mas shopping. Becky really wants to get involved this year, and quite frankly I could really use her help. She knows more about what her brother & sister want/need/have than I do at this point. ( IE- what video games/DVD's/CD's/etc they already have) I always manage to buy something for each of them that they already have, or that they don't want/need! So she should be good on that count! And it's my way of rewarding her for not pulling another one of those "I don't feel like going to school today- so I'll just skip" days. Bribery at its finest! hey- it worked!

So that's it so far. Thanks for all the birthday e-mails, text messages and wishes. I had a good one, although not much can be done on a Monday- it still was nice. Oh, and the funny part was that my Mom TOTALLY FORGOT IT! She even called Monday night- but she was so tired she totally forgot to mention it ( she was calling to get my schedule for the shopping trip!) She did call Tuesday morning and apologized, but I just thought it was funny! Maybe she'll give me a check or something tomorrow? Things that make you go HUM........ ;-)

I'm going to leave you today with a little pic I took on Thanksgiving. It's Kimmie and a little friend she made at the get-together. I just thought it was a cool picture;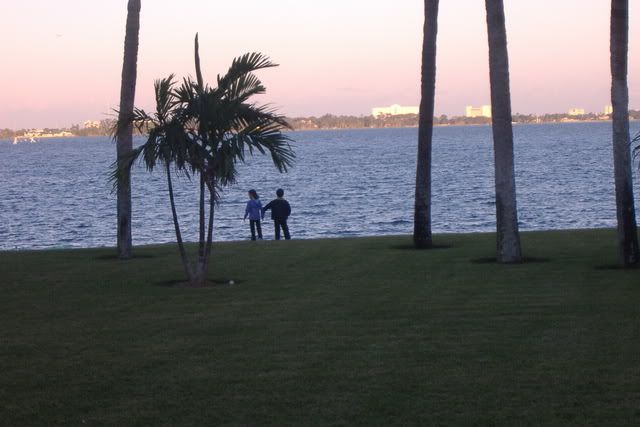 Ok everyone: " AAWWWWWWWW"

Have a great hump day all!
Peace and Love, KC!
Invisioned on |9:50 AM|
* * *