Thursday, February 01, 2007
Light at the end of the tunnel!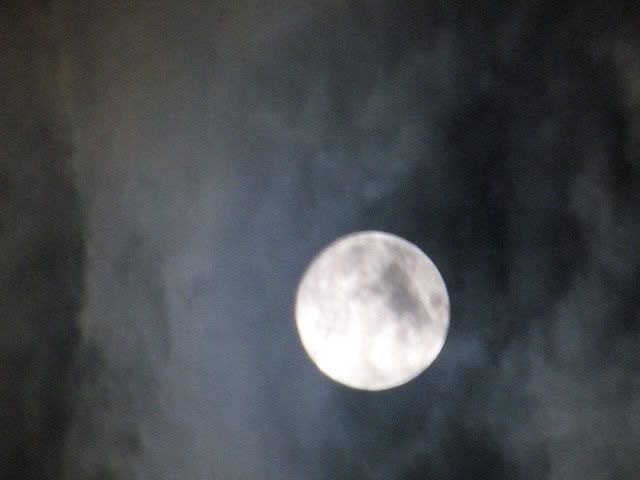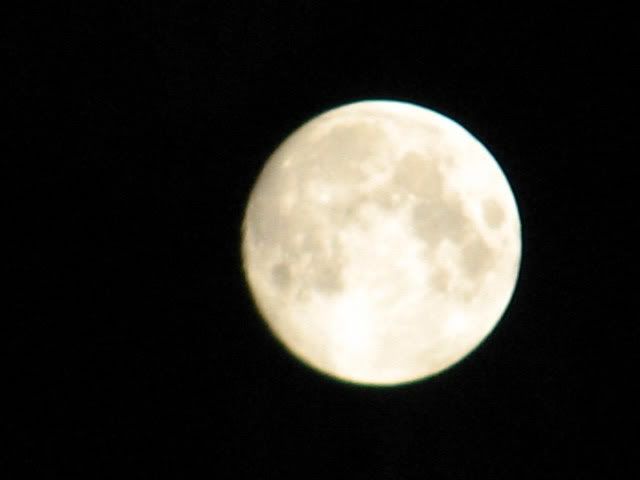 Cool Moon I shot last night- Yes, on my "new" toy! I'm still trying to wade through the massive instruction booklet. But for now I've just left it in auto mode. I'll have more time to play with it soon.....

'Cause we're getting some help- at least short term. An Intern for 6 weeks, and a girl that wants to work nights and weekends. Along with another tech from a local store that's not getting enough hours, that is taking all our Sunday shifts. ( that's the one I always get stuck with- so bless him!) We've also got a girl that used to work at our store, that wants to come back. Apparently she doesn't get along with her present store manager and want to come "home". So next week I go back to my normal 4 day schedule. We know the Intern is temporary, but at least this gives us some time to find someone good- and not just a body to fill a shift! The other Karen has decided that she doesn't want to work back with us full time. But she's willing to fill in 3 days a week, so that's a help as well. She knows enough to keep me/Christy off the registers/drivethru and doing what we're trained to do. You just can't type/call insurances/deal with questions while your stuck at a drive thru window!!!

Other than that, and the crazy weather we've been having, things have been pretty good. We all managed to get the house "back to rights" last Sunday. An surprisingly, they've kept it that way! Maybe the kids have finally learned.................No, not a chance in hell KC! But it's nice to be in a house where I don't cringe going from room to room!

Weather: OMG! No wonder I've got the headcold from hell! The past 3 days the temps have come close to freezing at night, with all the wind and such that goes with it. Today- Back to 80! I've already got the slider door open, and it's not 9am yet! Jeez- no wonder everyone gets sick down here- you don't know how to dress from one day to the next!

I'll be back tomorrow, but it probably won't be until evening. I work until noon, then have to go to see my surgeon. I don't know what's going to happen there, as my insurance has not been re-instated as of yet. But we're still trying. And I promise my Mom we'd meet up after. She's still in a bummed-out mood ( since the funeral) and I'm gonna try and cheer her up a bit. Hope it works!

In the meantime- have a great day all!!!!

Peace and Love, KC!

* edit 6:30 am Friday*

If any of you are hearing on the weather about the tornados in my state, they are *so far* north of me. That line of storms is due in about the time I'm due at work ( *SIGH*). I'll let you all know later how it goes. That is- if we have power. If we don't- I'll try to text those of you I have #'s for.
Keep your fingers crossed! KC.
Invisioned on |8:33 AM|
* * *