Friday, July 20, 2007
Well, I'm back-ish!
I've been trying to get this post in here for the last few days. But between family and work- it's been a bit of a struggle. Not to mention, Photobucket has been anal as far as adding/deleting/moving files. I swear I've had to back out and in to my account everytime I want to upload a picture. Not to mention, I've been trying to "clean up" my account and it just won't do it ( error messages abound!) So I don't have as many pics to put up here as I'd like. I'll keep trying though!

Our vacation was pretty good. I've learned a lesson though- I'm not booking any more hotels off Expedia. It seems as though I almost always have problems. Here's my point- with 5 people, you either have to have adjoining rooms ( which you cannot book- period!) or a Suite. Which is fine, but I've ended up getting the shaft on that more than once. Such was our problem in St. Augustine. I had booked a Suite- 2 queens, and a sofa bed. Fine- but the Expedia site was wrong! This hotel didn't have *2 queen* suites- only suites with 1 king bed!? Which would certainly not work for us ( I'm close to my family- but I'm not sleeping 3 to a bed, thankyouverymuch!!!) The young man running the desk did us a favor by giving us 2 adjacent rooms instead, but that still was not what I had ordered. The Suites came with a fridge, microwave, etc. And we had brought with us a cooler full of food/drinks which we now had no way to cook/cool. So we were constantly running to the ice machine, to at least keep the drinks cold. ( I'm sorry, but the way my kids drink- I'm not paying $2 for a 20 oz. bottle of soda every time they're thirsty- when I can buy a 12 pack of cans for almost the same price!) This also bit into our funds a little more- as we had to buy breakfast instead of having it in the room. But anyway- such was our lot- at least we got the 2 rooms.

St. Augustine was beautiful, though it was W A Y too hot! *memo to self- no more summer holidays that are not far enough north to excape the heat!* 95 degrees, with heat indexes in the 100's. Sweat was the order of the day down there- I don't care how much of a breeze came through! We bought tickets to a trolley service, which gave us a tour and also allowed us to get from place to place without having to drive/walk everywhere.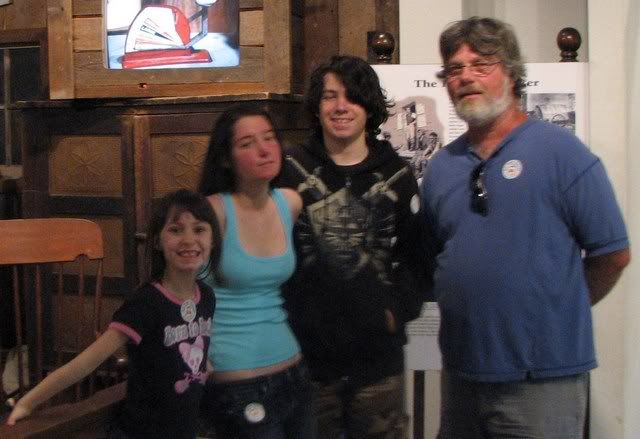 The family at a museum. See how tall Andy's getting- scary!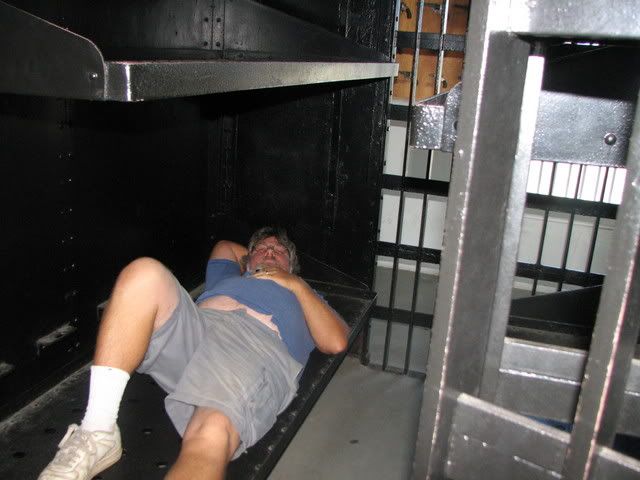 Hubby in "jail". Hummmmm... Nope- not going there! ;-)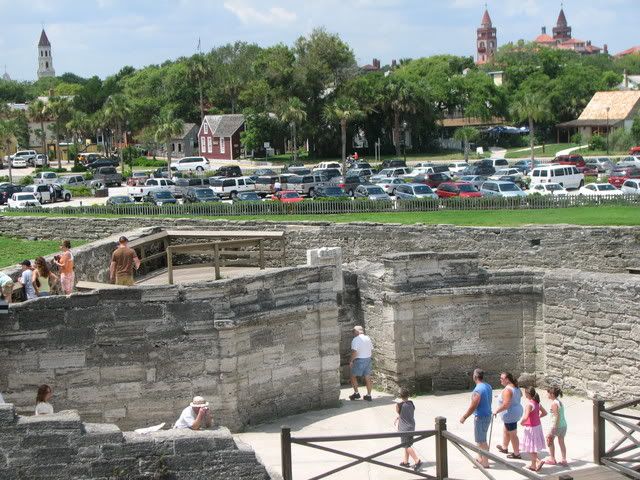 Picture of the town from fort of San Marcos.

It was a nice time, although I have to say that since I was there last, it has really become "comercialized". The "old town" street of St. George's place used to be all historic shops and such. But now there are more "tacky T-shirt" shops. Which was a disappointment, but what can you do? Still, we had a pretty good time. Finding a place to eat seemed to be our only problem. * another note to self- no more vacations where the predominant food is seafood- 2 eldest are NOT seafood fans!*

Now, I'm going off to fight with Photobucket again. Perhaps I can get a few more pics loaded, and add part 2 about Savannah when I get back here ( hopefully tomorrow- I have to work Sunday lol!)

Love and Peace, KC!
Invisioned on |8:18 AM|
* * *