Tuesday, September 08, 2009
And another Summer shot to hell.

see more Lolcats and funny pictures

And I'm slooooowwwwwly getting stuff done around here. Working frome room to room, cleaning out drawers, closets, dressers, etc. It feels good to get all these " one of these days" chores done. I'm leaving the big ones ( aka- painting, yard work ) until it cools down. I just can't do that stuff when it's still 90+ degrees outside. I'm just not used to the heat for any length of time- and we all know that the last time I tried I ended up passed out for the afternoon! So those chores will just have to wait a month or so.

I have a new toy though-




Yes, I've got me a Laptop! And it's staying "gaming-free" and kid free for as long as humanly possible. I've spent the last week or so just trying to transfer all my favorites over to it. It's amazing how many links I've got on the main computer that I've added over the years!


Hopefully, once I get used to typing on this thing, I'll be around more often. I know the vast majority of you use My Space and facebook. And I'm only keeping those accounts so I can keep up. But here is where I started, and here is where I'll stay. It's warm, comfy, and less crazy than the others. Besides the fact that I just like my little corner of the www.

Another fun thing I got to do the other day was to go down to my local B&N's and meet a favorite author of mine- Roxanne St. Claire. She was there with another author- Traci Hall ( who was also awesome btw!) and I got to talk with both of them for about an hour. What was SUPER cool was that Rocki actually recognized my name from the various Romance blogs and Twitter. When I introduced myself- she sqeeed and came around the table to give me a big hug!!!??? Blew my mind. I'd've been happy if she had just said " Oh, yeah- I recognize your name". I even got a piccy;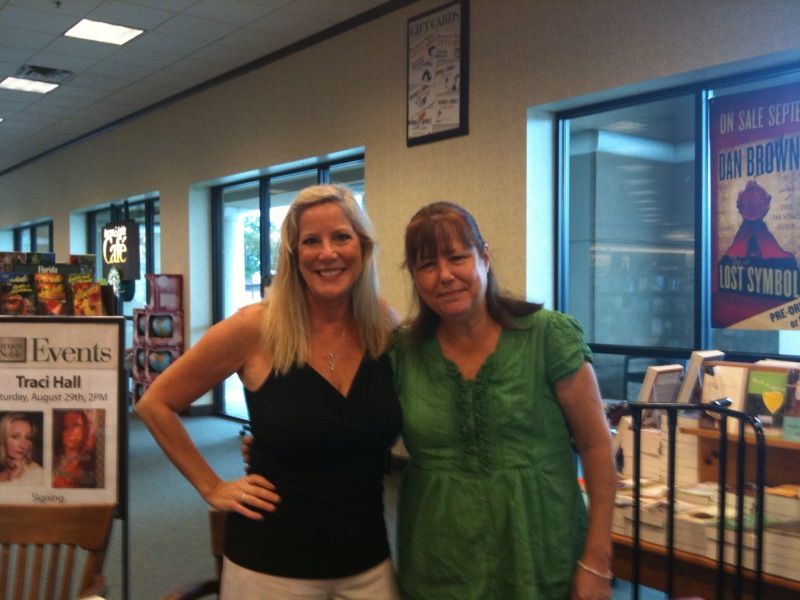 She's going to be at the store again for a big interview/Q & A on the 29th of Sept. I'm SOOO going again. And Traci? if your reading this- next time I'll get a pic with you too. Total brain-fart on my part!! MY BAD!

Let's see- what else? Oh I've got a few applications out here and there. Mostly to the local hospitals, nursing homes and the local VA. I'm not holding my breath though- But 12 people have downloaded my resume from the Fl. work website, so there's hope. And quite frankly, I'm not in a rush at this point, I kind-of like this being home and playing Mom- without all the stress of work!

I'll be back probably Thursday. I've got a few things to do tomorrow, and Thursday the coast is ALL clear!

Peace And Love,
KC!
Invisioned on |8:17 PM|
* * *